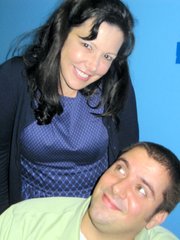 Something completely different is arriving at the Industrial Strength Theatre. The Elden Street Players take on the Northern Virginia Area premiere of a hilarious comedy of two con men who may have met their match.
Nominated for 10 Tony Awards in 2005 "Dirty Rotten Scoundrels" is a musical based upon the 1988 film. With music and lyrics by David Yarzbek and book by Jeffrey Lane, The show ran 626 Broadway performances. The Players production is directed by award-winner Michael Kharfen.
Kharfen indicated he jumped at the chance to direct the show. "It has so many funny lines. The writers must have had a ball writing the show. It's like that old Carol Burnet Show when Harvey Korman and Tim Conway tried and usually succeeded in cracking each other up on purpose."
"This is a great musical comedy and one of the least self- conscious shows I know; it constantly breaks the Fourth Wall with the audience. I also was grabbed by the jazzy score and think the audience will find themselves dissolved in laughter."
The change of pace musical comedy will have a band of 10, with musical direction by veteran Scott Richards. The band includes keyboard, brass, reeds, bass and more. Richards said who couldn't enjoy a score with titles such as "Ruffhousin' Mit Shuffhausen." Then again there is also "Like Zis/Like Zat."
The cast of 15 includes the skilled Annie Ermlick a 2012 WATCH community theater award nominee. Her character is Christine a woman who may be the more than the equal of the con men. "This is just such a feel good show. I even get to use all I can to try to entrap the men," Ermlick said with a sassy smile. "I will find my marbles soon."
Nathan Tatro is one of the con men. "My character is so much more than the script and the written words. I am able to ad lib and just have so much fun with the role," said Tatro. "I even get to be outrageous for the audience. " Tom Flatt, a WATCH award nominee plays the other con man ready to do all to make a buck from others.
Teri Alfred is cast as a swindled woman with a gun. "The show is just so upbeat, and very witty." With the good humor sung in the show; "It's almost a religion, the need to take a pigeon."