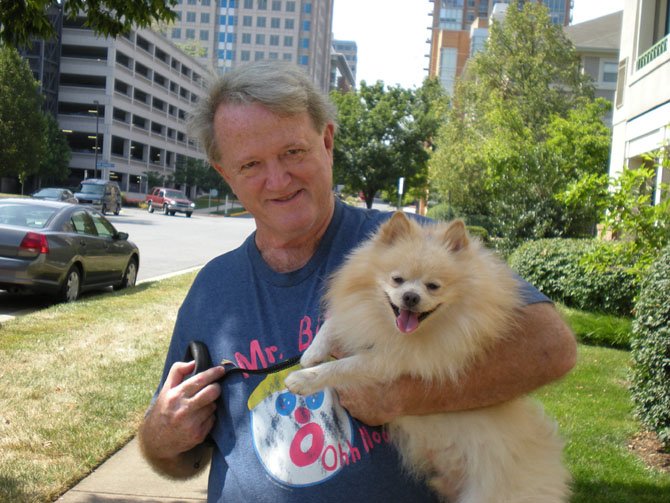 Frank Chanka embraces Bear, the family pet, a two year old Pomeranian living near Reston Town Center. Bear is a vigorous fellow who plunges into his primal instincts every now and then for such pleasures as chasing birds and squirrels, or patrolling grandma, whom he loves and ardently protects. Sometimes Bear darts off, checking over the shoulder for Frank, to be sure he's getting ample attention while rebelling from domestic authority. One of these times he rushed right into the road, completely ignoring passing cars, in order to catch a bird - but Bear didn't hurt it, he only picked it up to show off his catch, promptly letting it fly away.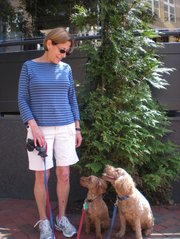 STELLA AND ROCKET meet Marsha Lehman's gaze as she walks them in the early afternoon. Stella, the girl, 2, and Rocket is a 3-year-old male, and they are both smart, funny, and affectionate Miniature Red Poodles. Marsha chose hypoallergenic dogs for her family due to her granddaughters allergies, and the choice paid off with two very well behaved pups who don't bite or shed, and have never escaped. Every day, as soon as Stella and Rocket wake up they walk to the kids' beds to curl up and cuddle with the grandchildren through the morning.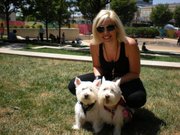 THE MIDTOWN PARK at Reston Town Center is a dog haven, where locals like Stephanie Laseada take their canines to let loose on the grassy ledges or to cool down in the fountain. Maggie and Madison are Stephanie's 12-year-old West Highland Terriers, sister dogs gracing the golden years of old age. They used to wander off and chase all types of small rodents, and they would independently return by the end of the day, but those days have passed. Now they live the lifestyles of sedentary dogs, racked by blindness and the irresistible bliss of snoozing.


CHARLIE is an 8-year-old male Miniature Goldendoodle, a well behaved frequenter of Reston Town Center who lives in the midtown apartment skyscraper with Beverley and Laura Howard. They've had Charlie since he was a pup, and have watched his special mind bloom. They say he understands many of the words they use, representing his prodigious pedigree with what they call a "3-year-old vocabulary." But for every dog savant there is a dark, messy pup, as Charlie's guilty pleasure means tracking water all through the house after a storm so he may slip and slide to his heart's content.