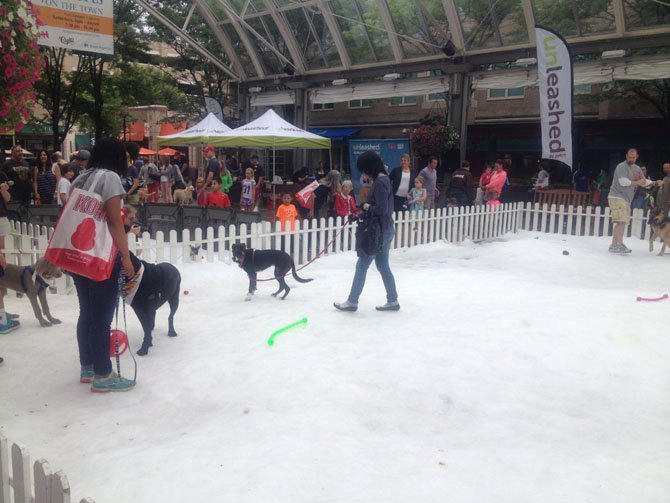 Hundreds of happy pups got to frolic in the snow last weekend at Reston Town Center.
Petco hauled 20 tons of snow to the town center plaza to give local pets and pet owners a Summer Snow Day to give back to the community and raise awareness for local animal shelters.
"It's a great way for our community to get to know us and for us to get to know them," said Petco D.C. general manager Kelly Johnson-Dean.
Reston's event was one of five events taking place nationwide that same day. Johnson-Dean said the two locations in California, the San Diego and Los Angeles events, did not include snow to preserve water during the drought.
Dog owners brought their pets to the town center to sign up for a seven minute slot of time to play in the snowed-in area. There were also raffles and giveaways throughout the day.
One of the shelters at the event was Lucky Dog Animal Rescue, a D.C. based shelter. Chief Operating Officer Kristen Kloster said many people in the area are open to adopting dogs and provide loving homes. She said she also loves how many dog parks are in local communities. The shelter saves dogs from other shelters - some of which have a 98 percent kill rate because of the number of dogs there.
"I know our economy has hit a lot hard, and they had to give up their dogs because of that," said Kloster.
She said many people also give up their dogs because they remembered having a dog when they were younger, but did not remember the time commitment to train and exercise their pet or the financial commitment if the dog has unexpected health issues.
Julie Jormane, Herndon, brought her 2-year-old dog Zoey to play in the snow and socialize with other dogs.
"We think she likes snow," she said. "This was a good opportunity to get some fun in. She doesn't like the heat."
She emphasized that new dog owners should research beforehand to find a dog that's right for them.
"We say all the time that we picked the best dog for us," she said.
Aaron Letteri, 10, of Reston, brought 1-year-old Fred to the park with his parents. His mom, Raba, said having a dog helps her son, who has dyslexia and Attention Deficit Disorder, to sit still and do work.
"I have to take the dog out in the morning and give him bubble baths on the weekend," said Aaron. "If I can give any advice, go into the shelters to find a dog."