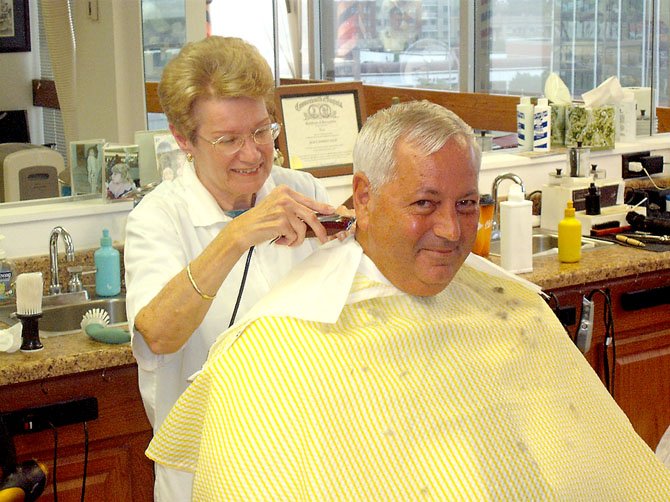 I got my first haircut at Bob's Barber Shop in the early 1970s. Not much has changed since then. The scattered newspapers and magazines, the red Naugahyde chair, the classic swirling barber pole, black combs swimming in blue barbicide, the animated banter of regular customers. I'm older now and have less hair to cut, but the warm, convivial atmosphere has remained.
Bob's overlooks the Commerce Street Bridge and Bob Evans from the 7th floor of the iconic Springfield Tower, a 14-story glass structure that's one of Fairfax county's most recognizable landmarks. Of course, the barber shop is also a landmark of sorts to many Springfieldians who can remember a time before the bridge, the Parkway, the hotels, the traffic, the intricate flyovers, and the now-hibernating mall.


IN 1962 when Bob's opened for business, downtown Springfield was a suburban frontier town. Shirley Highway was still a teenager, and Lee High School was too young to read or write. Aside from an Esso gas station and Fischer Hardware, Bob's didn't have many neighbors. My family lived on nearby Cimarron Street in Cowboy Town, so called because of the Old West-inspired street names. Our backyard was an empty field that stretched for miles.
Owned and operated by Bob Stockton and his wife Carolyn, Bob's was originally located on Brandon Avenue, a few blocks away from its current location. It's moved twice in the last 50 years. In 1978 they moved down the block, and in 2010 a rent increase pushed them into the Springfield Tower. Bob and Carolyn are the shop's only full-time employees but, according to Stockton, business is booming so he may be looking to hire.
Before becoming a barber, Bob worked at a gas station. He'd come home every night with chapped, bloody hands. Cutting hair seemed like something he "wouldn't mind doing," so he went to barber school in Hyattsville, Md. and worked in an Alexandria barber shop for a year before taking out a loan and opening Bob's in 1962. In 1964 his father, Cecil "Pops" Stockton, began working at Bob's. He'd graduated from an Oklahoma barber college in 1921 and cut hair for 70 years. Bob's brother and sister are also barbers, and his wife Carolyn joined the business in 1984.


"I'm having too much fun to retire."

— Bob Stockton
FOR MANY YEARS, Bob's staff—James "Duffy" Dofflemyer, Leo Dotson, Angelo Atsiknoudas, "Old" Bob Caynor and "Young" Bob Stockton—were familiar faces in the neighborhood. People came not only for a haircut but also for conversation, laughter and a sense of community. My father would get his ears lowered every two weeks on Saturday, always from Duffy, and he would occasionally bring me along for a "Regular Boy's Haircut."
Bob's has the same feeling today. The space is cozy, charming and pleasantly old-fashioned. Bob and Carolyn know everyone's name, and the customers laugh and joke with one another. "How come I don't look any younger?" a man asks, when his haircut is complete. Carolyn says she doesn't like to lie. "Bob never tells me I look good," another customer jokes. "He just says the hair looks good."
Bob is an experienced pilot who has, for decades, flown over the area with a photographer. Bob's is decorated with these beautiful vintage photos of old Springfield, which gives the shop a personal touch as well as a sense of history and continuity.
For many years Bob's has specialized in childrens haircuts. They provide certificates—with seals, signatures and a photo—for the child's first cut. According to Bob this is a special event, particularly for grandparents. "It's good advertising, too," he adds. The shop's name, address and phone number appear on every certificate.
Bob's has been a local institution for 50 years so perhaps it's fitting that they've moved to the Springfield Tower. While the world races forward at an alarming pace, it's comforting to know that some things never vary. I'm much older than I was when I first hopped onto Duffy's chair, and the barber pole is now reinforced with duct tape, but "Young" Bob Stockton and his shop look remarkably unchanged. "I'm having too much fun to retire," Bob says, and I believe him. His customers are having fun, too.