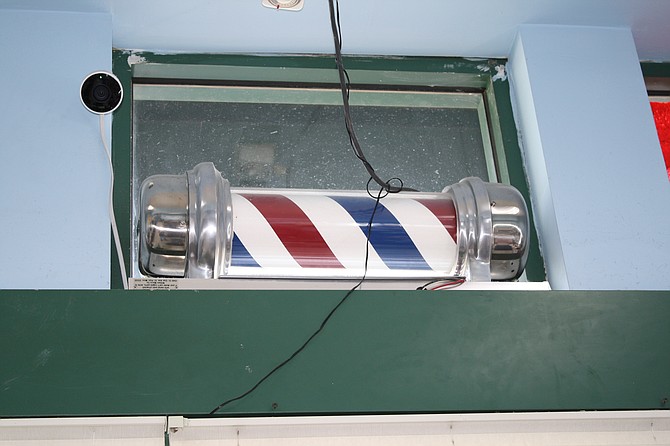 In 1999, the requests came in for the Ricky Martin haircut or the mushroom cut, which was "like a bowl," said Lorton Barber Shop owner Jack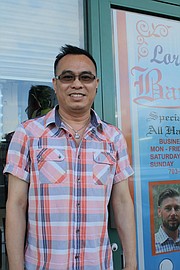 Nguyen, but after 20 years at the same spot off Silverbrook Road, the styles change. "Now nobody does it," he said.
Nguyen has seen a lot since 1999, and is geared for an anniversary celebration on Saturday, July 13 so his regulars can come in, reminisce, and enjoy the music and food while they talk about haircuts. He stands behind the first chair, in the "same spot, standing right here," and sees the same faces over and over again. Whether it's Mayberry RFD or Nguyen's spot in Lorton, the familiarity of the neighborhood barbershop doesn't change.
"I can't believe it's 20 years," said Kelly Osborne as she brought in her son Reid, 13, for his summer cut. "They always know what you want, super nice," she said. Her husband and other son are regular customers too.
The interior is no different then the shop in Mayberry either, except the barber pole, which was taken down from the outside location because of shopping center rules, but now operates in a window spot. "At night, the light is on," he said. There are about six barber chairs opposite the waiting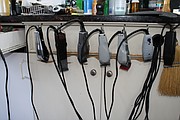 area seating, sports memorabilia on the walls, pictures of past customers, and a selection of electric razors hanging behind Nguyen's seat. Sports are always playing on the television sets and he's supported local teams before.
He held up a college graduation announcement of a customer he's known for years. "He used to be on the booster seat, now he finished college," he said.
A haircut was $8 in 1999, and now is $16. "We do shaves with the razor, hot towel," he said.
Back in 1999, Silverbrook Road was different too. There were only a motel and another store, no houses and a smaller intersection. Now he has a steady level of clientele but with the expansion of the area, other hair salons open as well so the business is steady. Lynn Ho has been working there for 16 years alongside Nguyen.
A highlight of the coming anniversary celebration is a raffle Nguyen has planned for free haircuts – eight for first place, four for second and an American Crew Cut with shampoo and conditioner for third.