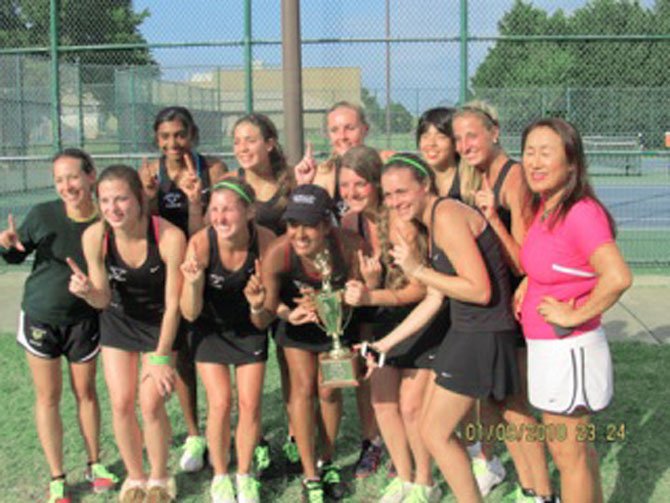 Great Falls — The Langley High girls tennis team completed an unbeaten season this past Saturday, June 2 by besting previously undefeated Mills Godwin (Richmond), 5-3, in the Virginia State AAA finals at Huntington Park in Newport News.
The Saxon's state championship is their first since 1992. Going into the finals match with Mills Godwin, Langley had not, in 19 previous team matches this spring, played a match closer than 7-2. Langley, with the state title under its belt, finishes with a perfect 20-0 record.
The Saxons, in the state finals, split their six singles matches, 3-3. Langley got a 6-0 win from No. 1 singles player Sydney Goodson; a 7-5, 6-2 victory at No. 2 from Kathryn Emery; and a three set win at No. 3 from Melissa Parks.
Langley, in order to clinch the state crown, had to win at least two of its three doubles matches. Goodson and Emery won their No. 1 doubles match, 6-2, 6-0. Both the No. 2 (Kitty Branche and Melissa Parks) and No. 3 (Jenny Liu and McKenzie Malpede) doubles matches went to three sets. Liu and Malpede went on to win their No. 3 match, securing the fifth win and Langley's state championship.
With the championship win, Langley, led by Coach Sarah Vincent, ends an incredible unbeaten season in which the Saxons captured three postseason tournament titles (Liberty District, Northern Region, and Virginia State).