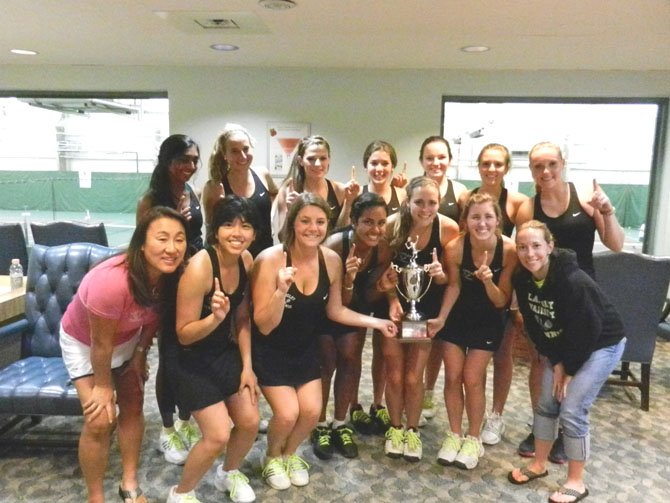 Great Falls — The Langley High girls' tennis team defeated Thomas Jefferson High, 5-0, to win the Northern Region title last week.
The following are the singles results - all won by Saxon players - of the team championship match: freshman Sydney Goodson over Rena Liu 4-6, 6-3, 6-2 at No. 1 singles; senior Kathryn Emery over Steffie Pitts, 6-1, 6-0 at No. 2; junior Melissa Parks over Madison Russell, 6-2, 6-4 at No. 3; senior Kitty Branche over Anna Vonetianer, 6-1, 6-4 at No. 4; and junior Jenny Liu over Schyler Pa, 6-3, 6-1 at No. 5.
The No. 6 singles match between Langley junior Vivian Louthan and Jefferson's Natalie Cheng was not completed.
For the season, Langley is 14-0 as a team, including victories at both the Liberty District and region finals.
Langley's First Team All-Liberty District selections in singles play this spring were Kathryn Emery, Melissa Parks, Kitty Branche, Jenny Liu, and Vivian Louthan. The Saxons' First Team All-District doubles teams were: Sydney Goodson and Kathryn Emery; Kitty Branche and Melissa Parks; and Jenny Liu and McKenzie Malpede.
Earlier this week, on Tuesday afternoon, May 29, Langley was set to host a Virginia State AAA quarterfinals playoff match versus the runner-up team from the Central Region.