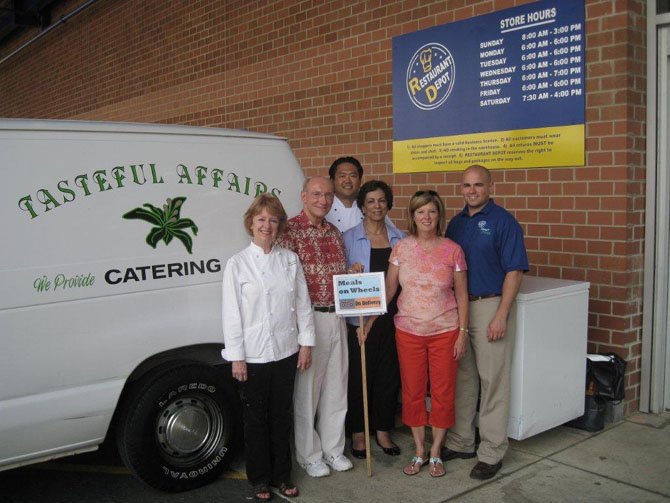 Sunday, June 3, was Service Sunday for the Old Presbyterian Meeting House (OPMH) and a major milestone for Alexandria's Meals on Wheels program. OPMH volunteers delivered the first-ever Sunday meals to seniors enrolled in the program, the result of a unique community partnership led by Senior Services of Alexandria (SSA).
Just a few months ago, the idea of pulling together volunteers, meals and the necessary funding for Sunday meal delivery was a just a dream in SSA's strategic plan. When OPMH offered to provide the volunteers as part of its annual Service Sunday program, SSA staff jumped at the chance to make it happen and started a chain reaction of connections throughout the community. First, SSA reached out to John Porter, executive director of ACT for Alexandria, to brainstorm about ways to fund the program, focusing on the city's generous restaurant community. Alexandria "Living Legend" Bud Hart made a connection with the chairman of Restaurant Depot, who offered to donate all the food for the meals. The final piece of the puzzle fell into place when Linda Harkness of Tasteful Affairs agreed to prepare the special meal for the day.
Of course, the 58 seniors who enjoyed the benefits of this unique partnership don't know about all the behind-the-scenes work needed to pull off their special Sunday Meals on Wheels delivery. They do know that Senior Services of Alexandria has worked tirelessly with other local non-profits, the business community and the Division of Aging and Adult Services to expand the program to six days a week starting July 1, 2012. SSA and the city are now moving forward with plans to provide meals every Sunday beginning in October so seniors in need will have healthy and tasty food without interruption.
Senior Services of Alexandria is proud to coordinate the volunteers needed to delivers Meals on Wheels throughout the city and hopes that many more people will be ready to help out with our weekend programs. The organization continues to work towards its goal of providing meals seven days a week for homebound seniors. For more information about the Meals on Wheels program, please contact SSA's program director, Nancy McCormick, at 703 836 4414 ext 12 or go to our website at www.seniorservicesalex.org