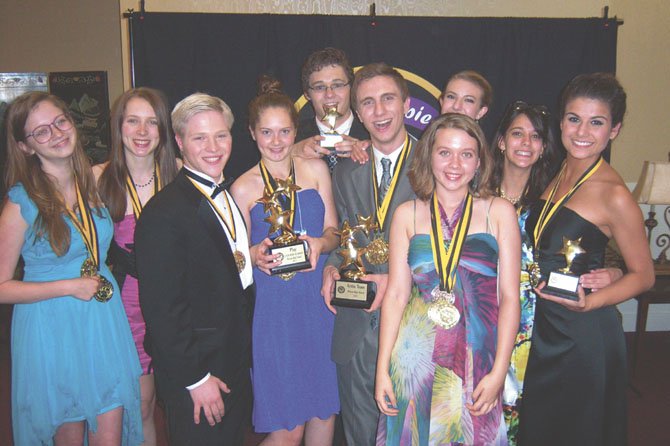 McLean High took home five awards – including the one for Best Play – at Sunday night's 13th annual Cappie Awards at The Kennedy Center in Washington, D.C. McLean's other victories were for Lead Actor and Lead Actress in a Play for its production of "A View from the Bridge," as well as Returning Critic and Critic Team.
Overall, Westfield High won the most Cappies, garnering 10, including Best Musical, for "Crazy for You." Langley and Madison captured one each.
Thrilled with McLean's awards was senior Terry Mittelman, who was among the actors receiving the Best Play statuette. "Honestly, I really think we deserved it," she said. "We put so much time and our hearts and souls into this play.
"Our director, Amy Poe, was such an inspiration and taught us that the only way to put on a great show is to put in the work," continued Mittelman. "We also had the most dedicated and incredible cast and crew, plus a great support system with the theater boosters and the most fantastic director in the world, who I'm sad to be leaving."
Junior Damian Leverett thanked Poe for her faith in him by casting him in his role and her "never-ending support and guidance." He called winning the award for Lead Actor in a Play "such a tremendous honor. I won't believe it until I go home and think about it. There was such give-and-take between the actors and, since we performed in a black box, it added an emphasis on nuance and the relationships between the actors on stage."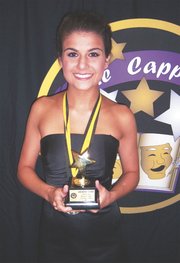 WINNING THE TROPHY for Lead Actress in a Play was senior Lexie Shoaibi. "I'm completely surprised, honored and humbled by this award," she said. "I didn't think I'd win; I'm blessed. We worked really hard on making our show intimate and honest, so every little facial expression and movement had to really come through [as believable]."
The Returning Critic Cappie went to junior Madelyn Paquette. "I'm thrilled," she said. It's my first year on the team and I loved seeing all the shows. My whole team comprises good friends, and it's fun to see amazing, interesting theater with them." Paquette also won a special, Washington Post critic award for having the most reviews selected for publication.
Part of the nine-person, Cappie-winning Critic Team, junior Max Johnson said, "I'm so happy to have the most talented writers in the world and a director who puts us first."
Freshman member Emma Paquette was also ecstatic, saying, "I'm so glad to have the support of the best lead critic in Max, plus my sister, Madelyn."
*Langley's award for "The Crucible" was for Featured Actress. "It's unbelievable," said winner Kaity Hinojosa. "This is an absolute blessing. So many of the cast members helped me with my role; I had to learn a Barbados accent. It's an honor to even be nominated, but to win is a dream. A lot of work goes into it, so this is just amazing."
*Winning for Best Song was Madison, with "Brotherhood of Man" from "How to Succeed in Business without Really Trying." Sophomore Julia Meadows was the lone female in that number and, she said, "I'm so excited. I think all the boys in it worked so hard and deserved it."
"It was an amazing experience," added senior Selena Garcia DuBar. "I choreographed it with Daxx Wieser who played [the lead] Finch. After they all sang it, they were overjoyed. And Wesley Diener replaced someone, so he had to learn the role in three days – and he did a wonderful job."
DuBar said most of the 16 boys in that song had never danced before and they did hand tricks, too. "I added some sass to the choreography," said senior Sallieu Fullah. "I was glad to be part of the cast and I feel happy that all our hard work paid off."