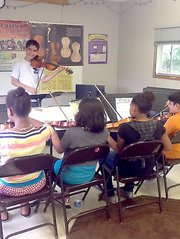 Langston Hughes Middle School STARS Program has recognized Joseph Letteri, 12, who has been teaching violin to five children at Forest Edge Elementary School throughout this school year. He has been working with these children to improve their intonation, bowing, tone and posture. With his dedication and love for music, Joseph has helped these students to improve their confidence, technique and understanding of music. As a reward for their hard work, Joseph bought the students shoulder sponges with his own money, which he had saved over the summer.
Joseph hopes to continue teaching more children in the coming school year.
The STARS Program recognizes students for participation/ accomplishments in activities other than those required as part of regular classroom work.