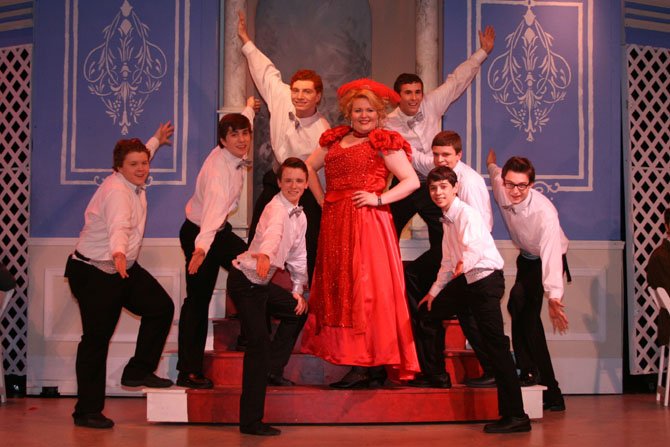 The Cappie nominations for outstanding high-school theater were just announced and, all together, Robinson, Woodson, Paul VI and Fairfax received 29 nominations. The awards to the winners will be presented Sunday, June 10, at the annual Cappies Gala at The Kennedy Center in Washington, D.C.
For its production of "Hello, Dolly!" Paul VI received nine nominations. And at the gala, the PVI Players will perform the "Motherhood March" number from the show.
Paul VI was nominated for: Best Musical; Lead Actress in a Musical, Sean Pugerude; Lead Actor in a Musical, Daniel Rozmajzl; Supporting Actor in a Musical, Connor McAlevy; Supporting Actress in a Musical, Casey Enochs; Comic Actress in a Musical, Patty Kelleher; Male Dancer, Alex Siegal; Female Dancer, Kayla Sharpe; and Ensemble in a Musical, The Waiters.
"I'm delighted by all the nominations," said Director Katherine Miller. "We knew the show had gone well; it was just nice to hear it from the Cappies, too. Sean Pugerude was born to play Dolly. When she was a freshman, she literally popped out of the chorus of 'Damn Yankees,' and she's been on fire ever since. I expect really big things from her in the future."
Since Rozmajzl and McAlevy are such good friends, said Miller, "It's wonderful to see this duo together on stage, too. Daniel is one of those kids who has a million talents; and he's so nice, you can't begrudge him any success. Connor, too, is the nicest kid in the world, and he's a learner. He asks questions, challenges himself and doesn't make the same mistake twice. He's a really hard worker."
Similarly, said Miller, "Patty, Casey and Sean are the three musketeers, so it's great to see them succeed together, too. Patty has a real talent for comedy, but in the fall I made her take the role of the love interest, Betty, in 'Heaven Can Wait.' Betty was a wet blanket, so it was nice for Patty to play someone with some pizzazz."
Calling Enochs a singer, dancer and talented actress, Miller said she's "a delight to watch. She had one song, 'Ribbons Down My Back,' that she absolutely detested, but she worked at it unceasingly and pulled it off. That was a big victory for her, and the audience loved it."
Miller's also pleased with the success of the Waiters, and even happier that Siegal and Sharpe received individual nods for their performances. "The Waiters had so much fun doing their back flips, cartwheels, walkovers, etc.," said Miller. "They were juggling dinner rolls and throwing dishes. I personally had lots of fun testing dishes to see which ones looked good, but wouldn't break when someone didn't catch them."
Regarding choreographer Kathy d'Alelio, Miller said she excels at taking dancers at every level, challenging and teaching them, and then bringing out their absolute best. "Dolly was a success, in huge part, due to Kathy's choreography," said Miller. "She makes novice dancers look experienced, and experienced dancers look phenomenal. She helps me direct and, since we usually agree on everything, I think she's brilliant."
"This is a whole crowd of mostly seniors, so I have watched them grow for four years and it's hard to let them go," continued Miller. "There were also more seniors than usual who started theater just this year. For example, Mickey Sheridan played two leads, including Horace in 'Hello Dolly!' He and Sean made a great pair; but for the previous three years, Mickey was playing hockey."