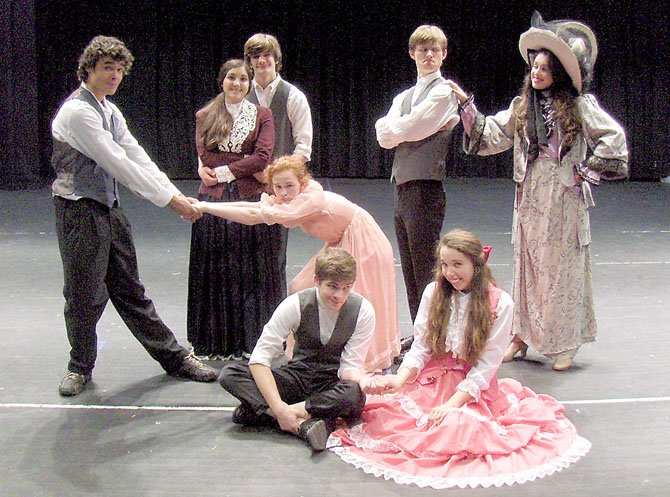 When the winners are announced during the 14th annual Cappies Gala, June 9, at The Kennedy Center in Washington, D.C., students from Fairfax, Woodson and Paul VI high schools will be there, eager for the results. That's because each school was nominated for awards for their musicals.
Fairfax received four nominations for "Hello, Dolly," Paul VI got four nods for "Once upon a Mattress" and Woodson garnered two nominations for "Bye Bye Birdie."
Fairfax High
Fairfax was recognized for comic actor in a musical, female vocalist, orchestra and costumes. Derek Yost received the comic actor nod and, said Director Wendy Knight, "He more than deserves it. I'm only responsible for about 5 percent of what he did during performances; he came up with everything else. From the voice of the character to the highly physical gestures and movements to the comic timing and delivery of the lines, it was all Derek."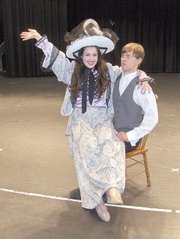 He's also been a leader on Fairfax's improv team, for four years, serving this year as co-president. "His improv training, under the guidance of English teacher Paul Rubenstein, clearly shows," said Knight. "Earlier this year, Derek played Schroeder in 'You're a Good Man, Charlie Brown,' where I saw glimpses of the comic brilliance he would bring to Barnaby in 'Hello, Dolly.'"
Nominated for female vocalist was Alexandra Nicopoulos. "Alex is ridiculously talented," said Knight. "Last year in 'Sweeney Todd,' she won the Cappie for best comic actress in a musical.
At auditions for 'Hello, Dolly,' she blew everyone else out of the water."
But, said Knight, Nicopoulos never lets it go to her head, but instead works hard, stays focused and pushes herself to improve. She also said Nicopoulos and actors Margaret Murphy, Deanna Payne, Megan Cathro and Will Park are directly responsible for "Hello, Dolly" making it to performance—even rehearsing at a dance studio over spring break.
They also personally recruited enough males so the show could be cast. And throughout rehearsals, said Knight, "I constantly heard Alex encouraging fellow actors, saying, 'Guys, we can do this—it's going to be amazing!' Her passion is incredibly deep and burningly intense, rarely found in high school students."
Regarding the orchestra, said Knight, "The Yonkers Honkers, as we've affectionately come to call them, could not have existed without pit Conductor Michael Misko. He came from Pittsburgh to work on 'Hello, Dolly,' and none of the musicians saw the music until the day before the first dress rehearsal."
So by the time the Cappies critics saw the show, the pit musicians had only done seven rehearsals. Nonetheless, they were nominated for best orchestra. Said Knight: "This speaks not only to the great leadership Michael provided, but also the incredible talent and musicianship of our band and orchestra students at Fairfax."
As for costumes, the entire costume team worked nonstop since January. After doing initial designs, sketches and historical research, they used everything from fabric and patterns to old prom dresses, borrowed jackets and thrift- store finds to create several, multi-layered outfits for each cast member.
Besides the 300-plus costume pieces, they also oversaw the construction of nearly 40 hats from scratch. "They were cobbled together from plastic trays, straw sunhats and various lengths of fabric, lace, fringe, flowers, fake birds, fake fruit, feathers—and nearly two gallons of melted hot glue," said Knight.
"The costume crew also had to incorporate vintage parasols donated from an elderly couple, as well as top hats and canes for the boys," she continued. "Particularly challenging were the tail coats and cummerbunds for the waiters in the title number."
Overall, said Knight, "I am so incredibly proud of every actor and tech in 'Hello, Dolly.' They exuded great in performances and brought unique elements to the show that made it truly their own. This is a show we'll be talking about for a long, long time."
Woodson High
Woodson was nominated for comic actress in a musical and ensemble in a musical. Faith Johnson received the comic actress nod, and Director Terri Hobson called her "a huge part of the backbone of Woodson Drama. She just takes any role and goes with it. She's one of the most committed, spirited actors I've had the pleasure to work with."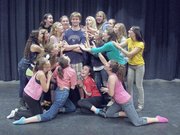 Since her role as the Queen of Hearts in "Alice in Wonderland" last year, Johnson's done improvisational rants between acts, admonishing the audience about cell phones and flash photography. "It stole the show and continued doing it through her next two shows," said Hobson. "Faith is not only an incredibly talented actress on stage, but she can take her role and use it anywhere for any purpose. She's brilliant in both improvisation and character development."
Regarding the ensemble, Hobson said the "Bye Bye Birdie" teen chorus was "just fantastic. They moved, acted, sang and danced as a complete ensemble. They were all so committed to their characters and their objectives that they literally drove the show's story. Every time they appeared, they exuded amazing energy that lifted the audience and invited them to share the experience. Each ensemble member was always engaged and committed."
Proud of everyone who worked so hard to make this musical a reality, Hobson said, "I truly believe that, although Faith and the teen chorus received nominations, the rest of the cast and crew made it possible for these talented actors to shine."
Paul VI High
Paul VI High received nominations for lead actress in a musical, Abby Rozmajzl; supporting actor in a musical, Brendan McAlevy; male vocalist, Jacob Rozmajzl; and stage crew, Alex Wingate, Evelyn Lockwood, Sawyer Loessberg and Zach Tauscher.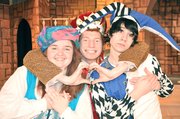 Pleased and proud of her young thespians, Director Katherine Miller said, "Perhaps the most interesting aspect of PVI's Cappie nominations was that this was a breakout year for everyone."
Abby Rozmajzl is a freshman and this was her first time on PVI's stage. Her brother Jacob is a junior, but was playing his first major part. Brendan McAlevy, another junior, also had his first prominent role as the silent king.
"All were a little intimidated at first, but each rose to the challenge," said Miller. "I knew Abby was a great singer, but I didn't know if she could handle the acting demands of such a major role. She showed me and everyone else that she could."
In addition, said Miller, "Jacob was nervous about singing alone and Brendan had to learn to mime. Brendan worked as hard on his silent lines as he ever did on spoken ones."
As for the crew, she said, her crewmembers really wanted a nomination. "They named the main, set wagons Thelma and Louise and made them cast members," said Miller. "Every set change was choreographed by the crew to be quick, efficient and entertaining. A month before our show, we went to New York and saw three musicals. 'Newsies' and 'Cinderella' impressed my crew with their fluid transitions and they wanted to do the same."