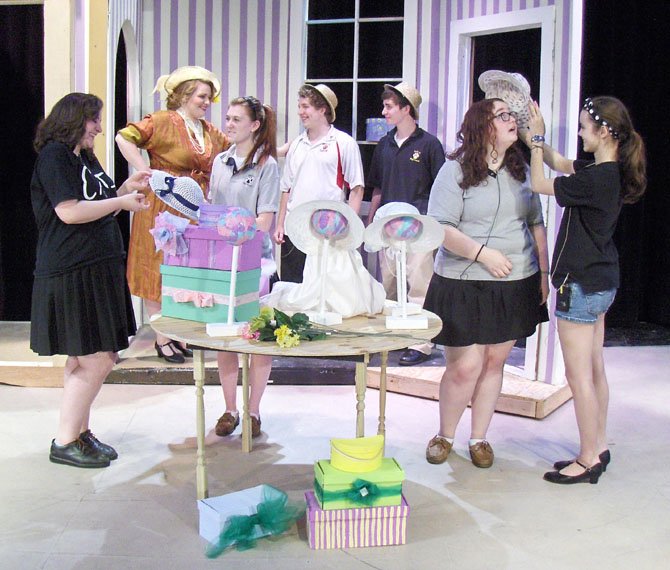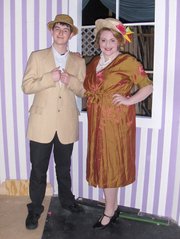 The romance of 1880s New York will come to life on stage when Paul VI presents its Cappies play, "Hello Dolly!" It features a cast and crew of 70, plus a full orchestra.
The curtain rises Friday-Saturday, April 20-21, at 7:30 p.m., and Sunday, April 22, at 2 p.m. Tickets are $15, adults; $10, students and senior citizens; at the door or at www.paulvi.net.
"We've been rehearsing since the end of January and the kids are doing great," said Director Katherine Miller. "They're a very talented cast, and some of the actors have been in theater all four years."
Senior Mickey Sheridan plays Horace Vandergelder. "He's a grumpy, nasty old man – a curmudgeon," said Sheridan. "He's wealthy, but cheap, and doesn't have much respect for anybody. He's a chauvinist who wants a wife solely to take care of his life and belongings. So he hires Dolly Levi, a matchmaker, to find him a wife. But he's not marrying for love."
Sheridan says his character is funny and has lots of great lines. "Two of my friends play his employees, and it's fun yelling at them," he added. Sheridan's favorite number is "It Takes a Woman" because "four teachers will be in it and they do a great job. It has a good dance routine and is about a group of men saying how they want their women to do the chores while they relax."
He said the audience will love the show's quick and witty dialogue, humor and "amazing numbers, especially 'Put on Your Sunday Clothes' and 'Hello, Dolly.' The story takes place over the course of one day, but moves fast, so you see lots of character development."


PORTRAYING DOLLY is senior Sean Pugerude. "She's a widow, so she's been a dance teacher, a guitar teacher and a matchmaker to make a living," said Pugerude. "She finally lets go of her husband and moves on with her life. Horace asks her to find him a second wife, but she wants him to fall in love with her. She's extremely outgoing, warm and friendly and likes making everyone else happy."
"It's a blast playing her," said Pugerude. "I'm so happy to have this as my last role at PVI. It's a lot of pressure, responsibility and hard work because it's such a huge lead. But every time I come to rehearsal, I have so much fun, I fall in love with it again. She's unapologetically flashy and in-your-face, with no limits."
Her favorite song is "Motherhood March" because she does it with her two best friends and, said Pugerude, "It's fast-paced and goofy. It's really ridiculous, but so funny. I also love 'Before the Parade Passes By,' about Dolly wanting to get back to her former life. It's her turning point when she realizes she can let go of the past and be herself – and then a whole parade comes in, right after that song."
She said the audience will love "how filled with joy everyone is because it's a show about people breaking out of their everyday selves and having adventures. And that's what theater's about – escaping your regular life and going into a new adventure."
Senior Connor McAlevy plays Barnaby Tucker, one of two teenagers who work in Vandergelder's hay and feed store. "He lives in Yonkers, N.Y., and is sheltered and naïve about the world," said McAlevy. "He doesn't like change very much and is a little shy around girls. But his co-worker Cornelius, played by Daniel Rozmajzl, gets Barnaby to go to New York City with him. I love playing Barnaby because I like his jokes and jumpy, physical humor and can do it well."
McAlevy especially likes the song, "It Only Takes a Moment," because "It was the song Wally listened to and watched in the Disney movie, 'WALL-E,' and that was my first introduction to 'Hello, Dolly.' I'm really excited about this show. There's a lot of energy and classic catchy songs everybody knows, and we're all having fun on stage."
Portraying Minnie Fay, assistant to the hat shop's owner Irene Malloy, is senior Patty Kelleher. "She's goofy and just wants to have fun," said Kelleher. "She's good friends with Irene and watches her back as she begins dating. It's fun – I'll have crazy pincurls and get to bounce around a lot. Minnie has a bunch of silly lines and great, comedic moments where she's shocked at what's going on."
Kelleher's favorite number is "Elegance," which Cornelius, Barnaby, Irene and Minnie sing together. "Cornelius tries to get us to go to a cheap restaurant, but we want to go somewhere elegant," she said. "It's really uptempo and has fun choreography." She said the audience will enjoy the excitement the cast brings to this musical, plus the singing and acting."


THE SETS will feature the feed store, hat shop and the Harmonia Gardens restaurant where the big, "Hello, Dolly" number takes place. PVI's head maintenance man, Clarence Boone, will sing the title song. The boys will wear suits and hats, and the girls' costumes will include 1880s-style dresses with puffy sleeves, bustles, big hats and parasols.
Director Miller says the audience will love the show's lively, familiar music and "seeing the teachers and Clarence. And in the Harmonia Gardens scene, there are lots of athletic dances containing handsprings, back flips, cartwheels, juggling and even a unicycle. The story's simple and romantic, and the audience will go out of here singing."
To see backstage videos, photos and updates on the cast and this production, go to Facebook.com or join the PVI Players presents Hello Dolly group.