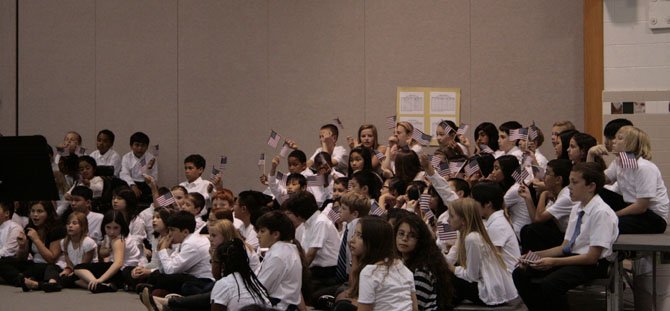 On June 6, family and friends of the fifth and sixth grade classes at Kings Glen Elementary gathered for an American themed choral concert: Nearly 200 students sang American music that included styles such as folk, ragtime, and popular hits.
According to music teacher Alisa Kieffer, Chorus is a big tradition at Kings Glen and the students were excited to sing for their families and friends.
Kieffer, along with fellow music teacher Heather Huling, arranged the concert and the songs that the students sang. The fifth grade chorus performed first, with songs ranging from a catchy tune about the fifty states, to an upbeat ragtime number. Sixth grader Abby Park accompanied the songs on the violin.
After the fifth grade chorus performed, the sixth grade All County Chorus sang a national Anthem Medley. The girls in this chorus also sing in a selective county choir.
In their last performance before moving onto junior high, the King's Glen sixth grade class performed next, with songs including "You Can't Stop the Beat" from the Hit Broadway musical Hairspray, and "Bridge Over Troubled Water," by Paul Simon. Student Daphne Hoskins accompanied, as well as school principal Sam Elson on drums.
Last, but not least, the entire Kings Glen Chorus sang the popular Bruno Mars song "Count on Me" as a special goodbye to their elementary school. Sixth grader Daniel Niedringhaus joined his principal on percussion for the final number.
The biggest surprise of the night, however, came from a reworked version of "Pachelbel's Canon"- instead of a song typically played at weddings and formal events, the students put words to the tune, and created a catchy homage to Taco Bell that students and parents alike will be hard-pressed to get out of their heads.