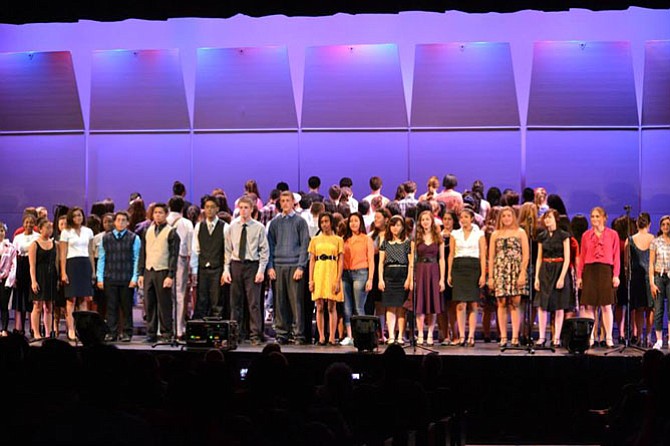 Come one, come all to the Centreville High Choral Department's annual "Broadway Pops" concert. It's this Thursday-Friday, June 9-10, at 7:30 p.m., in the school's Skip A. Maiden Theatre. Admission is free.
The concert features music from Broadway musicals performed by Centreville's six choirs, along with performances by two, student-led a capella ensembles and solos by various senior members of the choirs.

"We invite the community to come and enjoy music from the Broadway Theater, peppered with both vintage and contemporary pop tunes," said Choral Director Lynne Babcock. "It's a great way to usher in summer with this wonderful, entertaining and thoroughly uplifting night of terrific music and young talent."
The show will open with "Ease on Down the Road" from "The Wiz," performed by all the choirs. Then the Madrigal Ensemble will sing two vocal-jazz charts, "Chile Con Carne" and "A Day in the Life of a Fool," with a solo by Rebecca Brittain.

The Women's Ensemble will perform a medley from the Broadway production of "Pippin." Featured soloists will be Danielle Cabiran, Aiden LeBlanc and Hanna Whitaker. Following them, the Men's Ensemble will sing a medley from "Jersey Boys." Closing the first act will be the Concert Choir doing a medley of songs from the various shows of Broadway and film composer Stephen Schwartz. Allen Bong, Rebecca Spurrier, Andre Stevao, Nathan Cho, Tatiyana Nikolaev, Jared Renaud and Arianna Morrobel will all have solos.
Bella Voce will open the second act with a medley from the Broadway show "Beautiful, A Carole King Musical." Featured soloists will be Caitlin Dodson, Jeidy Marmol and Richala Seidou. Next will come the Symphonic Choir with songs from the musical "Ragtime" with Zainab Barry, Zoe Costanza, Alexi Henderson, Seth Kim and Kobie Turner performing solos.
Then the senior choral students will sing their swan song, "Everyday," from "High School Musical 2." All the choirs will join for the finale, a rendition of James Taylor's "That Lonesome Road," followed by a reprise of "Ease on Down the Road."
Among the a cappella groups performing will be the all-female Upbeats. Directed by Caitlin Dodson, its members will sing "The Hanging Tree" from "The Hunger Games." Also entertaining will be Symphonic Light, a small, mixed-voice, a cappella offshoot of Symphonic Choir. Directing is Kobie Turner, who arranged the medley of Disney songs this group will sing.
Senior soloists during the show will be: Zainab Barry ("No One Else"), Zoe Costanza ("Everything's Alright"), Prakriti Deuja ("Never Grow Up"), Caity Dotson ("Wild World"), Alexi Henderson ("You Gotta Be"), Frankie Idio ("Who?"), Erin Kang ("Hey Jude"), Seth Kim ("Stop This Train"), Paige Kranyak ("The Call"), Gabie Nicchitta ("Everything I Know"), Eransa Nnamugero ("Hear You Me"), Rana Rahman ("Landslide"), CJ Robinson ("Neverland"), Cara Shin ("Piece By Piece"), Rebecca Spurrier ("All I Ask") and Adam Waldmiller ("Light in the Hallway").
Tara Penick, who works with Centreville's choirs every spring, choreographed the majority of the show. And comprising the back-up band will be Babcock on piano, her husband Scott on drums/percussion, Glen McCarthy on bass, Bill Burke on guitar and Marie Brittain on synthesizer.
"This concert is the culminating effort of a very successful year.by our wonderful singers," said Babcock. "We are so fortunate to have such talent in our program. These students are not only gifted singers, but also wonderful young people. It's an honor to be able to work with them, each and every day. I'm so very proud of them all."