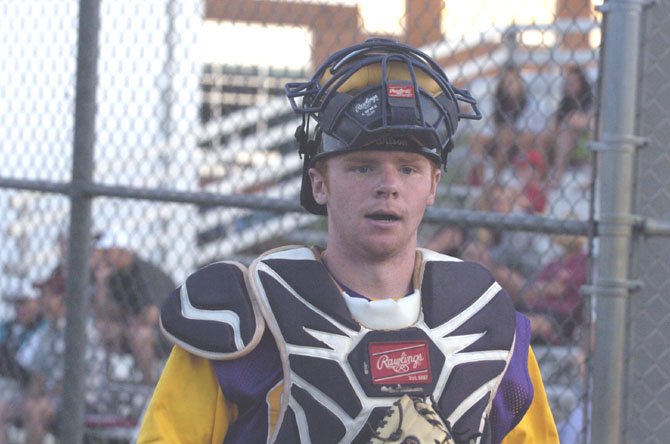 Red Dowdell hit a home run in his first at-bat as a member of the Vienna River Dogs on June 6. One night and two at-bats later, Dowdell smacked another homer.
Shaun Wood is Vienna's second-leading RBI producer despite seven of his teammates having more at-bats. He recently hit his first home run of the season.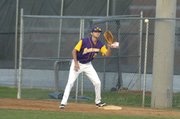 After stellar baseball careers at Yorktown High School, Dowdell and Wood have continued their successful ways while playing in the Cal Ripken Collegiate Baseball League — a summer wood bat league composed of 10 teams in Virginia, Maryland and Washington, D.C. While they have traveled different paths to get here, Dowdell and Wood, who spent three seasons as teammates with the Patriots, are each making the most of their opportunity with the River Dogs.
Dowdell is a 2012 Yorktown graduate. As a senior catcher, he earned National District Player of the Year, first-team All-Northern Region and Washington Post first-team All-Met honors. The left-handed-hitting Dowdell verbally committed to Virginia Military Institute as a junior and Vienna manager Bruce Hall said the 6-foot-1, 210-pound backstop is already prepared to play at the college level.
"Red [verbally committed] his junior year, so I knew he was going to play for me this summer because I told him he could," said Hall, a 1970 graduate of Wakefield High School. "I watched him play and he was good enough back then. He grew another inch or two; maybe three inches [and] he's put on 25 pounds of muscle. He's unbelievable.
"He's a prospect for Major League Baseball right now."
Wood graduated from Yorktown in 2011, where he earned first-team all-district and second-team all-region honors as a senior first baseman. Unsatisfied with the college offers he received, Wood spent the following year at the IMG Baseball Academy in Bradenton, Fla., to help improve his game.
"I knew," Wood said, "I could play [Division I]."
Wood had his sights set on playing for West Virginia University in 2013, but head coach Greg Van Zant was fired after the 2012 season, leading to a change in plans. Wood said he also had an offer from Appalachian State, but it fell through when head coach Chris Pollard left the program to coach at Duke. Wood now wants to play for the University of Evansville in Evansville, Ind.
"It's been ridiculous," Wood said. "… It's been a wild ride."
Listed at 6 feet 6 and 210 pounds, the left-handed-hitting Wood produced seven RBIs during Vienna's three-game winning streak from June 15-17.
"He doesn't really have any holes in his swing," Hall said, "but … I'm trying to shorten him up and trying to get his swing more compact."
Along with facing a higher level of competition, Dowdell and Wood have had to adjust to reduced roles. While each is used to being a star, Wood and Dowdell are part-time players as members of the River Dogs.
"Just to know somebody on this team is another big thing. Coming in here not knowing anybody, it was really cool to see a familiar face."

— Vienna River Dogs catcher Red Dowdell about teammate and fellow Yorktown graduate Shaun Wood
In 10 games, Wood is batting .333 (7 for 21) with one home run, four doubles and 10 RBIs. He said he tries to maintain the same approach whether he's starting or coming off the bench. During a June 16 home contest against the Silver Spring-Takoma T-Bolts, Wood entered the game at first base in the fifth inning and delivered a two-out, two-run double during his first at-bat in the sixth.
"It's really tough for me because my whole life I haven't done this," Wood said. "It's been tough adjusting to it."
Dowdell said he tries to stay involved by catching as many bullpen sessions as possible and taking batting practice. In eight games, Dowdell is batting .267 (4 for 15) with a double, two home runs and five RBIs. He had the night off against the T-Bolts.
"It was definitely a transition," Dowdell said. "I was frustrated at first because I'm used to playing every day and getting at-bats all the time and getting up in key situations. You've just got to go in there and understand what your role is, and right now my role is to split time with guys and play when I get the opportunity to."
Dowdell and Wood aren't just teammates; they're friends. They carpool to games, splitting driving responsibilities and the cost of gas (each drives a big truck). Both said having a friend on the team has made the transition to the CRCBL easier.
"Just to know somebody on this team is another big thing," Dowdell said. "Coming in here not knowing anybody, it was really cool to see a familiar face."
Dowdell said he will begin practicing with VMI in July, but will play with the River Dogs during weekends.
Vienna is off to a 7-4 start and is 1 1/2 games behind the first-place Rockville Express. The River Dogs will host the three-time defending league champion Bethesda Big Train at 7 p.m. on Wednesday, June 20.