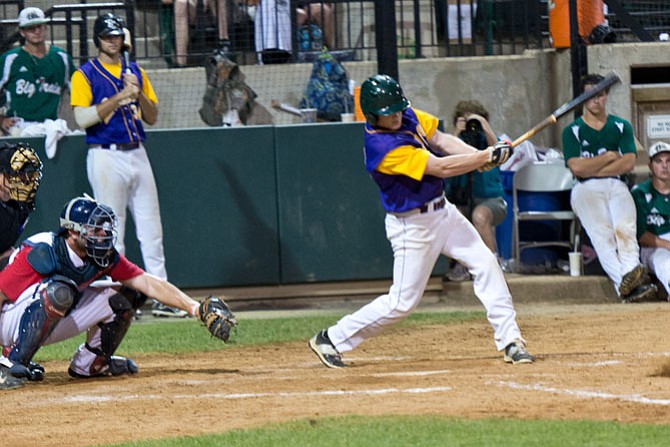 Jack Owens experienced a significant change when he received his release from the East Carolina University baseball program near the end of the 2015 season before deciding to continue his college career at Virginia Tech.
Owens, a 2014 Lake Braddock graduate, had committed to play at ECU for head coach Billy Godwin, who was fired following the 2014 season and replaced by Cliff Godwin. Owens said ECU "wasn't the right fit."
"It's the toughest thing I've ever been through," Owens said. "My family helped a lot. Coach [Cliff] Godwin at ECU was awesome. He's a great guy, but it just wasn't the right fit. We both thought it would be better if I moved on. No bridges burned."
Owens, a rising sophomore middle infielder, would likely have to sit out the 2016 season at Virginia Tech due to NCAA transfer rules, though he is hoping to receive a waiver allowing him to play.
While Owens' college baseball career included some stressful moments during the past year, his experience during his first season in the Cal Ripken Collegiate Baseball League has been enjoyable.
Owens, a member of the Vienna River Dogs, played in the league all-star game on July 15 at Shirley Povich Field in Bethesda, Md. He suited up for the South All-Stars, which defeated the North All-Stars 3-2.
Owens finished 0-for-2 at the plate but gained experience playing with and against some of the league's best.
"It was awesome," he said. "It was a lot of fun. ... I want to come back next year."
Owens entered July 22 batting .298 (28-94) with three doubles and eight RBIs in 27 games this summer. He also scored 14 runs and stole six bases. Vienna entered Wednesday's action with a 19-17 record. The River Dogs are in second place in the South division and are battling for a playoff
"I've hit a lot of singles, which I like," Owens said. "I'm a singles hitter and I like keeping the ball low and on the ground and making infielders work, making them mess up sometimes."
Owens is one of several former Northern Virginia high school standouts on the Vienna roster. Shaun Wood (Yorktown, West Virginia), Denis Mikush (Robinson, UMBC), Kevin Lachance (Centreville, UMBC), Jack Gomersall (Stuart, VMI) and Mark Gunst (Paul VI, JMU) also play for the River Dogs and were also selected to the South All­Star team.
Owens spent four seasons on the Lake Braddock varsity. A standout shortstop, Owens was part of the Bruins' first state championship team as a sophomore in 2012. In 2013, Owens and Lake Braddock won the Northern Region championship.