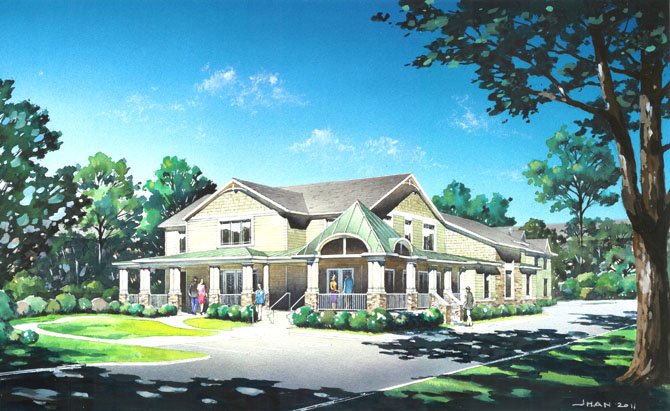 Mondloch House – Then and Now
Before there was a Mondloch House, there was - and still is - a Route One Task Force for Human Services. In the mid-1970s, housing was the task force's top priority, and sheltering those who were homeless and living in run-down motels along the Route One corridor was the most critical need.
In the early 1970s, Eleanor Kennedy, a task force chair, went before the Fairfax County Redevelopment and Housing Authority and asked for $10,000 for a shelter. "Naturally, the commissioners wanted to know if I had a plan. The answer was 'no,' but I assumed by the time they gave the money we would have a plan," Kennedy said. I guess they believed me because they gave us $9,000. In October 1977, we incorporated a new nonprofit agency, Route One Corridor Housing, Inc."
Mondloch House - Then
Route One Corridor Housing's first priority was to locate a shelter facility. Fortunately, a farmhouse was located for $8,000 down with an option to purchase in 18 months for an additional $65,000. This was just the opportunity that the new nonprofit needed. In December 1978 the four-bedroom house was dedicated as the first shelter in Fairfax County, and it opened for use in January 1979. Later that year, the shelter was named in honor of Bob Mondloch, a founding task force member and its first treasurer, who died shortly after the shelter opened.
In 1983, Fairfax County built a second facility on the same site, which was named Mondloch II Shelter, in response to the growing need for family shelter. Eight years later a large addition was built using state and county funds. The expanded facility could serve 45 people plus infants, an average of 17 families every night.
In 1999 the original farmhouse was replaced with a handicapped- accessible, more functional facility to serve a changing population of vulnerable single homeless adults. This state-of-the-art facility, still called Mondloch House I, opened in April 2000.
Mondloch House - Now
Under the leadership of Fairfax County Department of Housing and Community Development (HCD) and other community partners, Mondloch II is being rehabilitated into The Residences at Mondloch, a building of 20 fully-furnished efficiency units.
New Hope Housing, based in Alexandria, has designed and begun implementation of the Next Steps Family Program. The program is an innovative new model for serving families who experience homelessness by utilizing apartments rather than a congregate living facility. The apartment model allows families greater autonomy and provides staff an opportunity to assess daily living skills such as cooking, budgeting, basic home maintenance and parenting. The Next Steps Family Program (which maintains existing shelter capacity) will enable families experiencing homelessness to move more rapidly into permanent housing.
The pioneering strategy behind the development of the Next Steps Family Program is its use of tiered service levels that quickly identify and address barriers to housing, enabling the movement of families more rapidly into safe, appropriate and affordable permanent housing. By focusing first on housing and then on the supportive services that are necessary to maintain "housing first," the Next Steps Family Program and The Residences at Mondloch move the community another step towards aligning and reaching the goals within the 10-Year Plan with resources that are readily available in the community.
Information provided by Fairfax County's Office to Prevent and End Homelessness
Fairfax County's focus on ending homelessness took a step forward this month when the county began renovating its first ever homeless shelter - Mondloch House - to increase housing opportunities for single adults.
"This is a huge opportunity to house formerly homeless singles in our community," said Dean Klein, director of the county's Office to Prevent and End Homelessness (OPEH).
When the renovation is complete in June 2013, the Residences at Mondloch will include the creation of 20 affordable efficiency units for formerly homeless adults. The project, estimated to cost $3,353,204, will expand the 8,463 square foot building and add 2,953 square feet of new floor space.
The housing will provide homeless singles with the rare opportunity to be safely housed while receiving services – substance abuse, medical services, and education - necessary to remain independent in the community. According to Klein, residents will be required to pay 30 percent of their income in rent. The units have been designed for persons with disability or employment income that will not support market rents.
"By renovating Mondloch House, we are moving the community another step towards reaching the goal of preventing and ending homelessness by dedicating critical housing and service resources," Klein said.
Mondloch is currently operated by New Hope Housing under contract with OPEH. Klein said Fairfax County's Housing and Community Development (HCD), New Hope Housing and OPEH expressed an interest in upgrading the building to provide the fully-furnished efficiency units after officials determined Mondloch lacked accessibility and needed substantial rehabilitation.
As Fairfax County enters its fifth year of the 10-Year Plan to Prevent and End Homelessness, local homeless advocates are sharpening the focus on Housing First and various proven housing strategies to get the homeless housed as quickly as possible. Housing First is a nationwide approach that provides people who are homeless permanent housing first, along with supportive services, instead of placing them into shelters. This means housing becomes the first step in moving out of homelessness, not the last.
"Through this exciting effort we are able to provide housing opportunities for singles through this new facility. We are also able to implement an innovative approach to serving homeless families who would have been referred to the shelter," said Klein.
Next Steps, a new program operated by New Hope Housing in partnership with OPEH and others, has been launched this year in serving homeless families and families who have experienced domestic violence in 18 scattered site apartments. This program focuses on rapidly moving these families to permanent housing.
"The most pressing issue we have is safe, affordable and accessible housing, "said Michael O'Reilly, Governing Board Chairman of the Fairfax-Falls Church Community Partnership to Prevent and End Homelessness. "We've been working towards a goal of 2,650 housing units to be made available over the 10-year period in order to end homelessness in our community."
During O'Reilly's annual presentation to the Board of Supervisors in May, he noted that there has been a decrease in the number of people in Fairfax County experiencing homeless for the first time, down from 1,639 in fiscal year 2010 to 1,376 in fiscal year 2011.
"This is the first time the partnership has had a baseline to compare against," O'Reilly said.
He also noted that during the same period, more homeless were able to move into permanent housing, up from 482 in fiscal year 2010 to 714 in fiscal year 2011.
He cited affordable housing as one of the partnership's biggest challenges. "Creating affordable, appropriate and safe housing options for those at the lowest income levels has to be a top priority. For many of our elderly, disabled and low-income neighbors, long-term affordability is one of the most critical concerns," O'Reilly said.
Nan Roman, president of the National Alliance to End homelessness, said housing-centered solutions are key in order to prevent a rise in homelessness in the future.
In the NAEH's second annual State of the Homelessness report, released in 2012, Roman noted that funds from a $1.5 billion federal stimulus initiative focused on preventing a recession-related increase in homelessness are nearly gone. Roman said a combination of factors, including persistent unemployment, rising housing cost burden, and an increase in doubled up households, suggest heightened risk of homelessness for more and more Americans.
"In order to prevent a rise in homelessness in the future, we need to prioritize a safety net for the most vulnerable, and to ramp up investment in proven, housing-centered solutions," Roman said.