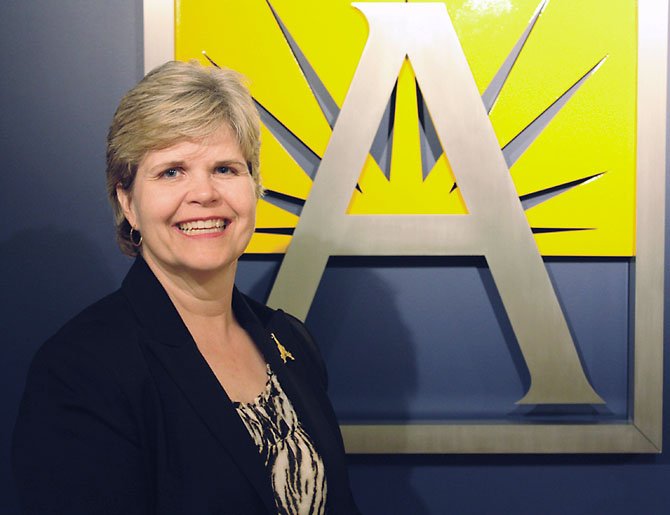 Arlington — Arlington County Public Schools are in the last throes of the academic year, and as summer break approaches, Bridget Loft and Kenwyn Schaffner reflect on their time as principals one year on the job.
From playing the drums to acting on stage, these first-year principals energetically engaged their respective school communities. There were challenges to be met over the course of the year, yet both Schaffner at Jamestown Elementary School and Loft at Swanson Middle School consider their initial year a remarkable success.
"I'm blessed and fortunate to work in a community I know," said Loft. "Swanson has a rich service to the community, my job is to continue that stewardship."
Loft has spent the bulk of her career in Arlington County, and previously held the position of assistant principal at Swanson for four years. According to Loft, the change of position has given her more flexibility to implement a vision of greater accountability.
"About 50-percent of my time as assistant principal was devoted to student discipline. As a principal I don't participate with discipline, it's broader, setting the vision and then implementing the strategies to bring staff around to that vision," said Loft.
A signature accomplishment under Loft's stewardship was a data wall of assessment scores associated with individual teachers. Although student names were redacted, the public nature of laying out scores for all to see is a major change. "It's scary to make yourself vulnerable with peers. Part of my job was to bring up the idea, and also to be cheerleader," said Loft.
Not all of Loft's proposals were successful, however, as her vision for block classes ran into hurdles posed by active and concerned parents.
"An ongoing challenge in my leadership has been moving faster than my constituencies are ready for," said Loft. "As a school community we have been working with the idea of implementing block scheduling in middle schools. The parental response has been very mixed, but I'm so grateful that they are coming to the table. The fact that they know their voices are going to be heard and are active in the process makes me excited and grateful to be working in this county."
At the elementary school level, Schaffner notes the success of technological achievements at Jamestown Elementary School. In February Jamestown became an Apple Distinguished Program certified school, one of 49 in the country.
In addition to her background as tech coordinator and computer resources instructor, Schaffner brings a wealth of experience to Jamestown's top administrator role. She has classroom experience at every grade level, from kindergarten to 12th, as well as a familiarity with special education and English as a Second Language. Her know-how also includes six years as an assistant principal at Jamestown.
"All of the experiences I've had have come together in this position," said Schaffner. "The principal sets the tone of the school. It's about caring, competent collaboration, to form relationships with colleagues, students and parents. The job is all about the people."
As Schaffner noted, however, being socializer-in-chief has drawbacks in the form of logistics. "I'm in the classrooms, walking the halls and have recess duty during the day, then from 4-8 p.m. it's paperwork. The big challenge is time management. How do you know what are the most important things? How can you meet diverse needs?"
To meet those hurdles and increase coordination and collaboration among faculty, Schnaffner employed the principles in Tom Rath's "Strengths-Based Leadership." By identifying individual strengths and matching faculty accordingly, Schaffner instituted a policy that streamlined the teamwork building process.
"Principals have more power than they realize. They set policy and procedure," said Schaffner. "It's important to respect the culture at the school and to understand the community. The first year is to get an appreciation for what's there."