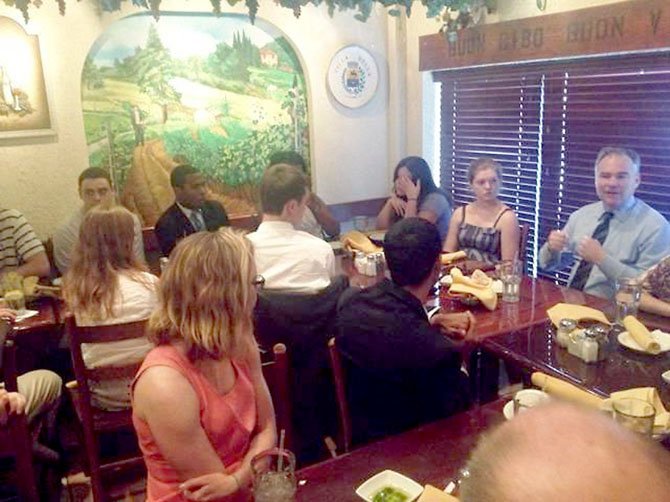 Former governor and current U.S. Senate candidate Tim Kaine met with Northern Virginia students and parents to discuss his strategies for the future of higher education on Thursday, June 21 at Villa Bella Ristorante in Burke.
During the forum, Kaine expressed his commitment to increasing the accessibility and affordability of higher education and spoke about the importance of two-year college, four-year college, and career training in creating the "talent economy" that is central to his approach to strengthening the economy and creating jobs.
"If we want to be stronger economically we can learn some lessons from Virginia," said Kaine. "Once Virginia embraced talent our economy started to grow. The Virginia story teaches us that if you win the talent race you win the economic race. At the national level, we're slipping in the global talent race. I want to work as a talent specialist in the Senate because I believe it is critical to our long-term economic success."
Kaine has been a supporter of financial aid programs, such as the 2010 expansion of the federal Pell Grant program and extending the 3.4 percent interest rate on Stafford loans. He called upon Congressional leaders to prevent the doubling of interest rates on Stafford student loans and urged swift passage of the compromise before the June 30 deadline.
"It would be an absolute tragedy to let Stafford loan interest rates double at month's end. If Congress can't find a way to work together to keep that from happening, 177,000 Virginia students who have Stafford loans are going to see their monthly payments go up significantly."
During the 90-minute discussion, Kaine expressed his support for increasing access to two-year college, four-year college, and career/technical education and emphasized the importance of a talented workforce to the nation's economic competitiveness.
As governor, Kaine stressed that he worked with members of both parties to make investments in education and workforce training, including a 40 percent increase in pre-k enrollment, a record higher education bond package, and millions of dollars in tuition assistance.
Since the beginning of the year, Kaine has hosted more than 60 economic roundtable discussions across the state to share his approach to creating jobs and hear from Virginians.