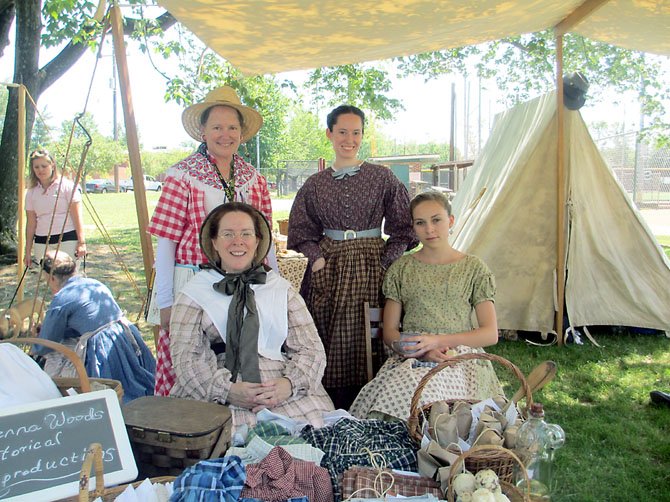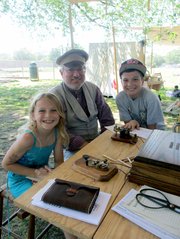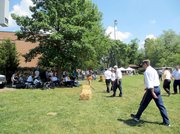 A Mid-Atlantic Vintage baseball tournament and living history exhibition on June 23 continued Vienna's sesquicentennial commemoration of the Civil War. Baseball fans and history buffs alike, more than 150, found relief under the sweltering sun beneath shade trees around the community center. The players, clad in long sleeves and heavy pants, weren't so lucky but they made it through the three-game day on Caffi Field.
"We're big baseball fans," said David Safran of Vienna. "It's intriguing to see how it was played 150 years ago."
The game was played on flat lawn, no pitcher's mound, because the pitcher throws underhand when playing by 1864 rules. The scorekeeper keeps score by-hand on a standing board. Since all teams were "visiting" clubs on June 23, there was no home team. Teams chose game-starting ups or fielding with captains fingering the bat to determine who picked first.
The Vintage Baseball Game and Living History Exhibition was co-sponsored by Historic Vienna, Inc. [HVI] and the Town of Vienna, and conceived by local historian and basebal fan Sarah Jane Brady.
There were not many children present on Saturday but the ones who were there appeared to be enjoying themselves as they learned about Civil War life. "It's pretty cool how they're playing baseball the way it used to be," said 13-year-old Danny Kaplan, visiting from Florida. "I like all the tents teaching you stuff, like the activities like the telegraph. I want to stay here. It's pretty cool."