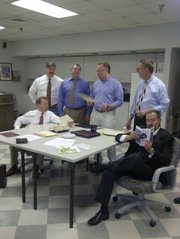 "What a great play with wonderfully rich characters," said Rosemary Hartman, director of the Elden Street Players upcoming production of David Mamet's "Glengarry Glen Ross." The Tony and Pulitzer Prize winning drama has "an amazing, muscular script with plenty of subtext to bring out Mamet's commentary" about the world of commerce.
"Glengarry Glen Ross" is the story of the American Dream as seen from the vantage point of four small-time real estate agents trying to survive. It takes place in Chicago in the mid-1980's. It is a very dog-eat-dog world depicted by Mamet. What sets things in motion is a contest to sell real estate; the winner wins a car, the losers will be fired.
For the Elden Street Players the storyline is one of "questionable business deals... Money, egos, and careers all on the line. Threats, lies, bribery and intimidation are the name of the game."
Director Hartman described the "memorable characters played by a very talented, dedicated cast of seven who find dynamic intensity in their words as the strong are pitted against the weaker." The cast is skilled at "bringing out all the desperation that underlies each character."
"What I try to accomplish is to guide the actors on their characterizations to develop all the nuance and undercurrents" in a play where language and meaning, talking and listening are at its heart. Hartman also is intent to "keep it real in the stage setting" first in a Chinese Restaurant and then in a real estate office.
At a recent rehearsal, the cast discussed what motivates their individual characters. How each of the characters think, talk and prey upon one another. Ted Culler spoke of the exasperation of his character "as pressure builds to be successful." Michael Clendenin spoke of "the strong interplay among the characters, how they push and pick at each other." Kevin Dykstra mentioned finding ways within himself "to portray a character who is really not a nice guy."
When and Where
"Glengarry, Glen Ross" at Industrial Strength Theater, 269 Sunset Park Drive, Herndon. Performances March 16-April 7, 2012. Friday-Saturday at 8 p.m., Sunday, March 25, 3 p.m.; Sunday, April 1, 7 p.m. and Thursday, April 5, 8 p.m. Tickets: $20. Visit http://eldenstree... call 703-581-5930. Note: This play is for mature audiences with strong language; not appropriate for children.
A line from one of the characters gives a flavor of the production "It's not a world of men... it's a world of clock watchers, bureaucrats, officeholders. What it is, it's a [messed] up world, there's no adventure to it."

Mary Ann Hall, production stage manager has watched the cast dive into the script through many rehearsals. She invited audiences to step into the Mamet world "for this very powerful and unforgettable performance."