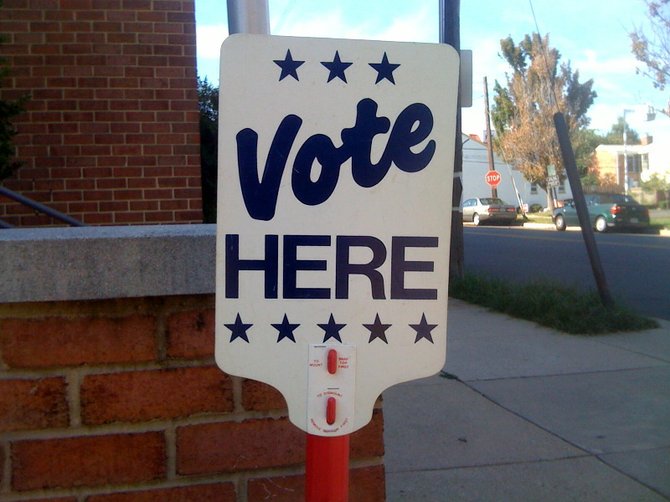 New Democratic Candidates
John Taylor Chapman, 30: A native of Alexandria, Chapman grew up in public housing. After graduating from St. Stephen's and St. Agnes School in 1999, he received a bachelor's degree in social science education from St. Olaf College in Minnesota. He is currently an after-school specialist with Fairfax County Public Schools. From 2006 to 2007, he was president of the Alexandria Young Democrats. Since 2011, he's been president of the Alexandria NAACP. Chapman votes in the MacArthur Precinct.
Melissa Feld, 41: A native of Toronto, Feld became an American citizen in 2008. She has a bachelor's degree in government and history from the University of Toronto and a master's degree in American government from Johns Hopkins University. She is currently a principal with PowerBase Associates, a research firm that works with businesses. She is currently a member of the Maury Elementary School PTA. Feld votes at the Mount Vernon Center Precinct.
Michael Hepburn, 29: A native of Miami, Hepburn received a bachelor's degree in sports management from Florida International University in Miami. After graduating, he moved to Alexandria and took a position as coordinator of player services for the National Football League Players Association. He is a member of the Alexandria Economic Opportunities Commission and the Career and Technical Advisory Committee. Hepburn votes at the Tucker Precinct.
Arthur Peabody, 65: A native of Lynn, Mass., Peabody moved to Alexandria in 1972. He has a bachelor's degree in political science from Northeastern University and a juris doctor from Cornell University in New York. He was an attorney in the Civil Rights Division at the Department of Justice for 34 years and is currently counsel for Blue Cross/Blue Shield. Peabody votes at the Chinquapin Precinct.
Allison Silberberg, 48: A native of Dallas, Silberberg received a bachelor's degree in international relations and history from American University and a master's degree in playwriting from the UCLA School of Theater, Film and Television. Silberberg has written comedy for shows like "Mama's Place" as well as speeches for former presidential candidate John Kerry. She is currently the chairwoman of the Alexandria Economic Opportunities Commission. Silberberg votes at the Agudas Achim Precinct.
As the campaign season heats up, the Democratic field is getting more crowded. Four new candidates gave their first pitch to members of the Alexandria Democratic Committee Monday night. And another candidate, Michael Hepburn, said he was likely to announce.
That brings the grand total to 13 candidates seeking six slots on the Alexandria City Council. Although some were bracing for an August primary, recent action from the Virginia State Board of Elections seems to open the way for a primary contest on June 12. For the first time in the history of the city, Democrats will head to polls at all of the precincts in a citywide primary rather than having a "firehouse caucus" at one central location. Party leaders say they are expecting more people to participate in the process.
The five new candidates join an already crowded field. Two incumbent Democrats are seeking reeleciton, Councilwoman Del Pepper and Councilman Paul Smedberg. Two former Democratic members of City Council are trying to return to their old positions, former Councilman Tim Lovain and former Councilman Justin Wilson. And four non-incumbent candidates have already announced their candidacies: Donna Fossum, Sean Hollihan, Charles Sumpter and Boyd Walker.
On the Republican side, two incumbent City Council members are seeking reelection — Councilman Frank Fannon and Councilwoman Alicia Hughes, who ran as an independent in 2009 but will be running as a Republican this year. Insurance agent Scott Gordon ran a short-lived campaign, but he withdrew from the race this week. Former Republican candidate for City Council Phil Cefaratti said Monday night that he will likely announce a candidacy soon.
Unless more Republican candidates come forward, the party will not need to hold a primary or a caucus because they need more than six candidates to have a contest.