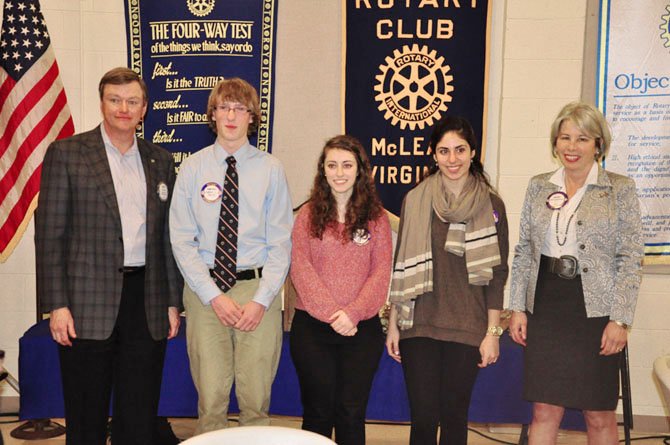 McLean — The McLean Rotary Club handed out its annual Youth Service Awards Tuesday, March 6 to three local seniors who have gone above and beyond in their community service efforts.
Zhina Kamali of McLean High School, Sheerin Tehrani of Langley High School and Keenan Lidral-Porter of The Potomac School were this year's honorees. Each student was awarded $250 in scholarship money as part of their prize.
"These are people who have already made an impact in our community, and already make a difference," said Dale Lazar, secretary of the McLean Rotary Club. "That's what they're being honored for today."
Kamali currently serves as president of the school's Interact club, which is sponsored by the McLean Rotary Club. Over the past two years, she has helped raise more than $11,000 for various local charity events. She also serves as president of the school's National Honor Society.
Barrett Kashdan, Kamali's counselor called her a "true natural leader" for her ability to gain her fellow students trust when it comes to leadership roles.
"She has done much to raise money for people around the world, such as for Stop Hunger Now, Empty Bowls and Shelter Box to name a few," he said. "She has been an integral part of Project Enlightenment, which is a historical reenactment program, and last year she spent 60 hours working as a stagehand at the Alden Theatre, which is her passion."
Kamali, who is also active in the school's theater program, says that is how she likes to spend her non-school, non-volunteer time.
"I like being a techie and doing stage work," she said. "I'm still waiting to hear from schools in the fall, and I'm hoping to study business and marketing."
Tehrani, who is fluent in English, French and Farsi, has supported international charity efforts for most of her life. When she was nine, she organized a charity effort for victims of Hurricane Katrina. In 2010, she organized a benefit concert to support the victims of the 2009 earthquake in Haiti, finding five local bands to perform, promoting to four different high schools and raising more than $2,000 in relief funds.
She is also involved in the "Light of the Life" program, which provides schooling and education for girls in villages in small rural communities of Iran.
"She's a wonderful member of our student body, she commits to her school community," said Julie McGreevy, guidance counselor at Langley. "Not only is she a great asset to our community, she's a great asset to the community at large."
Tehrani said she hopes to study linguistics in college, and says she's proudest that she's been "able to manage my schoolwork with my charity activities."
Lidral-Porter has served throughout Northern Virginia, tutoring elementary students at the Herndon Resource Center as an underclassman and cooking and serving meals to the homeless at the Embry Rucker Community Shelter in Reston as well as the residents of the Alternative House Teen Shelter in Tysons Corner.
He was also named one of the co-leaders of The Potomac School's Community Service Club this year.
"Innately caring and thoughtful, Keenan does not do community service, he lives his life thinking of others, their individual situations and what he can do to make things better," said Alex Thomas, dean of students at The Potomac School. "He instinctively searches for real solutions to assist those in need, and he is the first to contribute his time and effort, even when it seems he doesn't have another second free… He is guided by a personal compass that allows him to identify and address what is important in his work, and avoid getting lost in what isn't. He's simply never flustered."
Lidral-Porter says he is still waiting to hear back from colleges about next fall, and that while he is undecided about his area of study, he's considering following in the footsteps of his two older brothers by studying math.