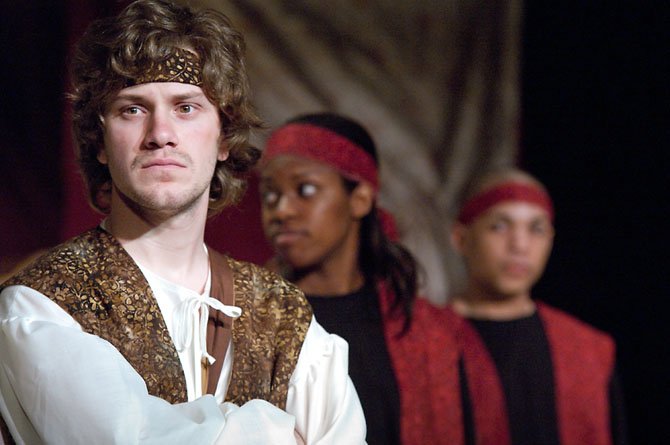 A multi-cultural voyage into adventures beyond the familiar awaits families at the Workhouse Theatre at Lorton for the next weeks. The Studio 3 Theatre for Young Audiences is presenting "Sinbad, the Untold Tale," a recent play by Charles Way.
This Sinbad story begins in a far off time in ancient Baghdad, when magic was more common. But then the story takes its own twists and turns. In "Sinbad, the Untold Tale" there is the overly protected daughter (Kindra Cook) of the famous but now older and infirmed sailor Sinbad (an earnest Eric Burns). unable to ply the seas. Along comes a young, orphaned, quick-witted rascal also named Sinbad (brightly energetic Eben Kuhns).
As can happen in fairy tales, there is also an evil sorceress (Ashleigh Howard) who wants to harm others and destroy Baghdad so she can live forever. Who will defeat her?
At first, Cook and Kuhns seem annoyed with one another, but over time they learn to work together even as they tease and bicker. They take on the evil-doers and find themselves growing quite fond of one other. Facing wickedness and evil illusions they show their own bravery through courageous swordfights and daring-do. They sail on magical boats and "float" on mystical flying carpets.
With wonderfully vivid costumes by Mary Payne, lively lighting effects and an appealing dream-like projections, Joyce Forbes directed her cast with nice flair.
Without preaching, playwright Way has written in universal life lessons as a subtext; lessons about working together, not giving up easily, making sacrifices for other's and taking care of one's elders.
Cast highlights include Howard as a vivacious and quite nuanced sorceress, and a hard-working Cook as the daughter who leans on her own strengths so she can save others. Jason Hammock is a delightful hoot as a rather large Genie. Bows, silences and winning smiles from the talented Calvin Register, Jr. are charmers, showing that silence does not mean invisibility before an audience.
Where and When
"Sinbad, The Untold Tale" presented by Studio 3 Theatre for Young Audiences, Workhouse Arts Center, 9601 Ox Rd, Lorton. Tickets: $12 for Adults, $8 children under 12. Performances through March 31. Saturdays, 10 a.m. & 1 p.m. Note: Suitable for all ages, recommended for children about 6 and older.
For parents; the production runs about 2 hours with a 15 minutes intermission. Faithful to the script this production may be a bit too long for some children as there is lots of dialogue. When the action and imagery kicks in there is grand enjoyment.
"Sinbad, The Untold Tale" is a nice getaway away from television and electronics into the magic of live theater. There is even an opportunity to meet the actors after the show.