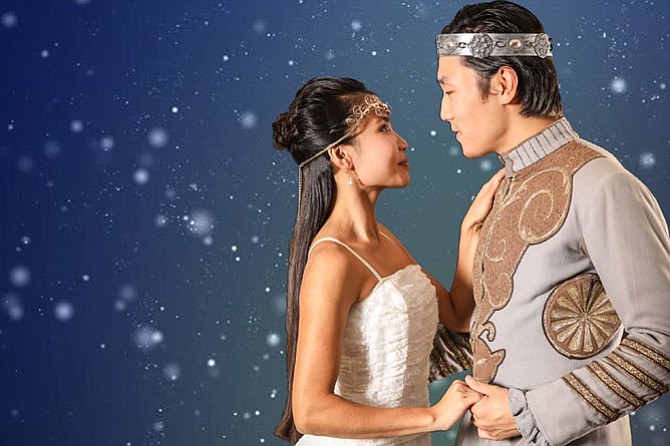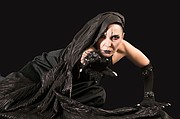 Synetic Theater will present the wordless production of "Sleeping Beauty" from Dec. 7 to Jan. 8, 2017 in Crystal City. Synetic's ensemble takes on the classic tale of a princess, an evil sorceress, and a centuries-long sleeping curse in this adaptation of one of the Grimm Brothers' most beloved stories.
Director Paata Tsikurishvili said the play is so iconic in many ways, but he wanted to get back to the story's roots and give audiences a visceral experience of it. "By producing this tale without any spoken word, we can emphasize the well-known characters in a different way and bring out the story's sense of "magical realism," he said.
He wanted to breathe new life into the 700-year-old fairy tale while at the same time appealing to younger audiences. "Our 2014 adaptation of 'Beauty and the Beast' was so successful, especially with younger viewers and families, that we wanted bring the entirety of our base back together by presenting this magical tale that is perfect for the holiday season," he said.
He added: "'Sleeping Beauty' is a fascinating combination of real-life human struggles — sacrifice, loss, redemption — but it is overlaid with a supernatural layer that ties everything together. We wanted to emphasize this combination in a purely visual manner."
As the director, he said it was a great challenge to bring the different art forms together. "To fuse our unique visual aesthetic with music, dance, movement, acting, multimedia — using our entire emotional palette to create a single theatrical language that is greater than the sum of its parts and speaks louder than words. To find the form, style, manner, and expression of the storytelling, all without saying a single word, was probably the biggest challenge. But I think we have found our 'art of silence,' which, I hope, will transport you into a magical world that will leave you speechless too," he said.
He said there's a lot of darkness and divisiveness these days and he hopes that people take away from this show that the darkness will not win in the end. "The story's moral, as with many fairy tales, is that basic love and goodness ultimately triumphs," he said. "However dark things get, that is how it tends to work out. I hope our audiences take heart from this story and get that message as they leave the theater. A simple hope maybe, but union, coming together — a realization that, whatever our grudges, we're all more alike than we are different — for me, this is inevitable."
Choreographer Irina Tsikurishvili also plays the role of the Witch, who she says is not the standard villain that you see in so many adaptations of this story. "She has suffered tremendous loss and is very conflicted, as we show in a backstory which we've added to the traditional fairy tale. It is always fascinating to play these conflicts — as well as playing a supernatural being with some pretty awesome, earth-shaking powers," she said.
For her, the challenge in working on this piece was a question of synchronicity. "Having to bring this character's inner world to life, to keep her from being more than a stock villain, and showing her struggle between good and evil while at the same time matching perfectly with the choreography and multimedia elements. This wasn't easy, but we have a great cast and director to rely on, which always makes things easier," she said.
She said she hopes people enjoy her new take on the Witch, something maybe a little more complex and nuanced than is usually seen. "I hope they also realize that even the most evil characters can be won back 'to the light,' so to speak — that love and kindness is the single most powerful force in the world, and can put virtually anyone and anything back on the right path," she said.
Eliza Smith plays the role of Briar Rose, a young girl full of life and trust. "She is someone who completely embodies innocence and purity, so those around her cannot help being affected by her blissfulness," she said.
She said a challenge was the changing choreography, music, and scenes in the improvisational process. "When an element was changed, I found it difficult at times to remember the latest version, as well as adapt my characterization to fit the changes," she said. "This is a piece that is constantly evolving; therefore, it is challenging to evolve smoothly, taking the alterations in stride."
She added: "'Sleeping Beauty' is a show of magic and wonder where audiences will be whisked away into another world. It seems to be the perfect time for it during this holiday season when miracles happen and hope and faith in goodness and love are renewed. Our gift to our audiences is allowing them to find the child in each of them and believe that anything is possible."
Zana Gankhuyag plays the role of the Prince, a young and relentless character who comes into his own through the progression of the show. "His journey to find Sleeping Beauty/Briar Rose is not easy. It forces him to question what he knows and who he trusts," he said.
He added: "There is an undeniable innocence about him at the beginning; he has this burning passion to explore, but he never allows himself to stray too far from the familiar, until he meets the young girl in the woods. His encounter with her becomes the catalyst in his personal arc, and flips his world upside down."
One of his challenges has been the use of fabrics and projections that has been a beast to tackle. "Our set is made completely of long drapes of aerial silks that can be utilized in any way to create new images and shapes, as well as act as a screen for the projections," he said. "The fabric has a life of its own, and we have been working very diligently to learn its behavior. Especially for our dance and fight scenes, trying to manipulate the fabric to act as an extension of ourselves is quite challenging."
Synetic Theater will present "Sleeping Beauty" from Dec. 7 to Jan. 8, 2017. Show times are Tuesdays through Saturdays at 8 p.m.; Saturdays and Sundays at 2 p.m. Tickets are $20 to $60. The venue is located at 1800 S. Bell Street, Arlington. Visit www.synetictheater.org or call the box office at 866-811-4111.