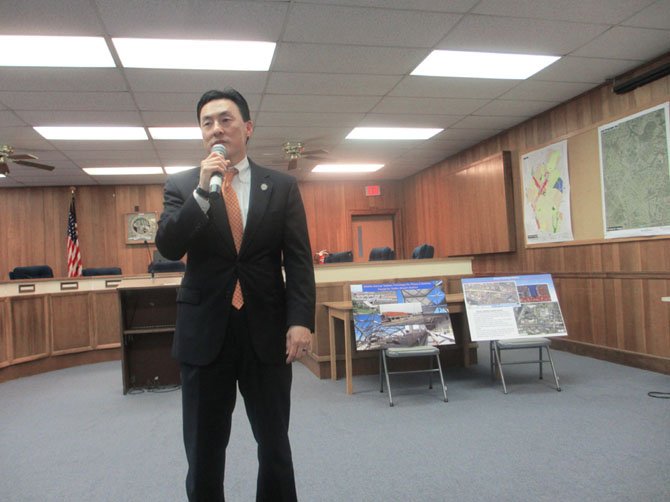 More than 40 local residents listened to Del. Mark Keam's overview of the General Assembly session at his March 24 Town Hall Meeting at the Vienna Town Hall, and the questions they posed afterward hit hot-button issues. From transportation funding to education funding, from the impact of closing training centers for the disabled to the status of the King's Dominion law, constituents wanted to know where the Commonwealth stands on budget resolution and laws that impact their daily lives. The regular session closed on March 10 and a special session immediately opened to work out the budget for the next two years.
"The good news is that we're back on track to finish the budget in the next week or so," said Keam [D-35]. "The budget is something we take very seriously."
The issue of funding transportation arose from guests, and Keam described the flaw in the gas tax basis. In 1986, then-Governor Gerald Baliles approved an increase of the gas tax from 15 cents to 17.5 cents per gallon of gas. Rather than indexing the gas tax into law, legislators passed the rate increase of 2.5 cents per gallon as a constant. "Two and a half cents in 1986 is not the two and a half cents of today," Keam said. Every indicator of needs, including road usage and number of registered vehicles, has gone up since 1986. "We need to raise the fuel tax to generate new money," said Keam.


A TEACHER IN THE AUDIENCE brought up the lack of pay raises for teachers, enquiring about funding mechanisms. "Right now, we're underfunding education and we're not coming up with mechanisms to fund it. There are no plans to increase the pot," said Keam, who is on the education committee in the General Assembly and a vocal supporter of public education. "Education should always be one of the top three issues in people's minds."
Another listener asked about Virginia's ranking as a state with increased risk of corruption. Keam said he does not dwell on a single ranking list. He and his wife chose to live in Virginia, he said, because it's a great state.
Transitioning residents from a Virginia training center to group homes will take money and time. "This issue [closing the Commonwealth's training centers] generated more constituent e-mails than any other single issue in the General Assembly," said Keam.
When asked about the likelihood of overturning the abortion sonogram law, Keam said he does not see it being repealed anytime soon.
Although some elected officials during the regular session tried to pass a social agenda they did not run on, the vast majority of the Virignia House and Senate wanted to focus on the things voters sent them to Richmond for, primarily the economy, transportation and education, said Keam.
"In this area, we tend to think of politics as something that happens across the Potomac," Keam said, emphasizing that so many jobs are tied to the federal government. "This is a unique environment. Very few people here think of Richmond as something that affects their lives.
"I hope that all of you will really start focusing on what your state government does."


THE KING'S DOMINION LAW rules that school systems cannot begin the school year prior to Labor Day without a waiver from the Commonwealth to do so. The original intent – providing high school labor for amusement parks – has been hijacked by the reality that now a "vast number" [Keam] of amusement park workers are temporary immigrant laborers, not local high school students. What is happening to Virginia students as a result of the law, is that they are behind their national counterparts on testing dates because other states do begin school in August, providing students with time to study that Virginia students lack.
"May is when all school testing is done," said Vienna resident Karen Akers. "We have four weeks of dead time. We start later, our kids are behind."
Keam concurred. "It's really about the best use of school time," he said, a co-sponsor of the bill to repeal the law. There was not enough support in the General Assembly to repeal the law this year; however, Keam noted that the state superintendent of education and her committee are looking at the school calendar.
Keam said it's "up to all of us to work together" to improve things in the state.
"I hope you all take ownership of the Commonwealth," said Keam, acknowledging that the people he represents are active in community affairs. "Change always happens when people lead."