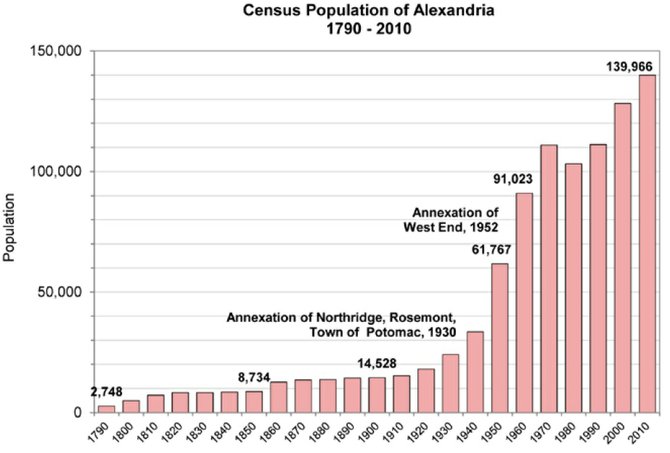 Up
percent of workers commuting by transit increased from 16 percent to 22 percent
percent of foreign-born residents from Africa from 24 percent to 27 percent
percentage with a bachelor's degree increased from 54 percent to 60 percent
Down
percent of workers commuting by transit increased from 16 percent to 22 percent
percent of foreign-born residents from Africa from 24 percent to 27 percent
percentage with a bachelor's degree increased from 54 percent to 60 percent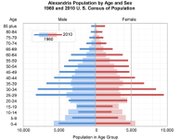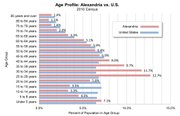 Alexandria is getting older and more educated, and its residents are increasingly likely to take public transportation to work. These are the conclusions of the latest Census information, which shows that Alexandria is a city in the midst of perpetual change.
"This information is important for a number of reasons," said Planning Director Faroll Hamer, "not only because it determines our political representation but also we use it to anticipate demand for city services."
One of the most striking trends in the recent Census data is the shifting black population in the city, which has moved from the east part of the city to the West End. In the last decade, nearly all of the areas with substantial black population and African-American population on the east side lost a substantial share of that population. Meanwhile, in the West End of the city, the share of black and African-Americans increased, most significantly in those areas with a substantial foreign-born population.
"This shift is striking," said Pat Mann, urban planner. "And it's continuing a trend that we first saw in 1990."
Another interesting demographic trend in Alexandria is the age distribution. The city's population has a greater share of singles and young couples in their late 20s and 30s. It also has a much smaller proportion of school-age children and seniors than the rest of the country. City planners say this age distribution reflects Alexandria's location close to the center of a large urbanized region, where residents are seeking housing close to work that is also at the center of regional activity.
"This city is very attractive to young professionals," said Mann. "We have a lot of families, but not nearly as many as the nation as a whole."
UNLIKE MOST communities in the U.S., Alexandria has been documented in every Census dating back to the first in 1790. With a population of 2,748 people in 1790, Alexandria ranked 22 in size among the 24 urban localities identified in the Census. It was the fourth largest city in Virginia at the time, ranking behind Richmond, Norfolk and Petersburg. In the early 20th century, Alexandria began to grow dramatically with a series of annexations, including Northridge, Rosemont and Del Ray.
The city's most dramatic growth took place in the 1940s and 1950s as a result of World War II and the beginning of the Cold War. The city's population nearly doubled between 1940 and 1950, a dramatic increase that was followed by the 1952 annexation of the West End. Since 1960, population growth in the city has maintained a relatively steady rate.
"The data shows that the city continues to be characterized by a racially, ethnically and economically diverse population, and a high level of educational attainment compared to the rest of the nation," concluded City Manager Rashad Young in a memorandum outlining the Census information.