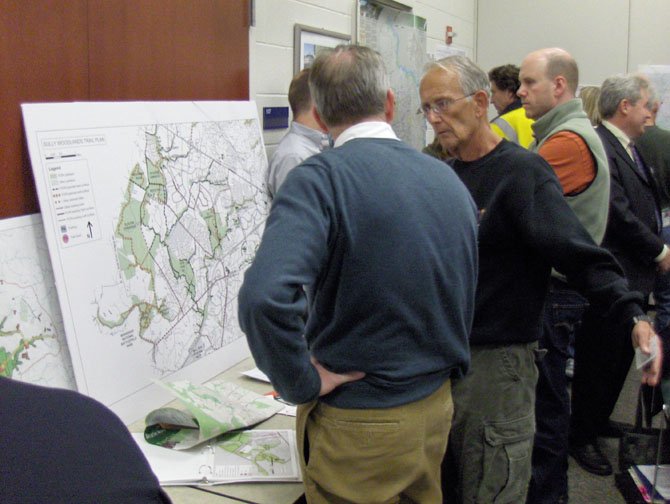 Besides being fun and good exercise, bicycle riding can also help improve transportation in Fairfax County. So the county's Department of Transportation (DOT) is holding a series of meetings to further develop a countywide Bicycle Transportation Plan.
The goal is to create a system of on- and off-road bike lanes to serve as a bicycle-transportation network. Included will be specific improvements needed to accommodate and encourage bicycling within and between county activity and population centers, and to and from neighboring jurisdictions.
"We did the bike plan for Tysons last year, and now we're doing the rest of the county," said Dan Goodman, a senior planner with Toole Design Group of Silver Spring, Md. His company and Cambridge Systematics of Bethesda are working together with the county to develop its bicycle master plan.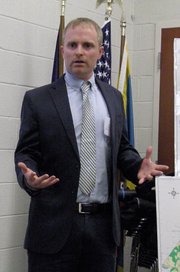 "We're focusing mostly on biking for transportation," he said. "We started in June 2011 and will finish this June. Then we'll recommend a proposed bike-network plan to the Board of Supervisors in June or July. We hope to have it incorporated into the [county's] Comprehensive Plan and into the City of Fairfax's plan."
Goodman was speaking March 6 before local residents at the Sully District Governmental Center in Chantilly. Fairfax Advocates for Better Bicycling (FABB) asked the Board of Supervisors to create a county bike program, and it did so, five years ago. Now, said Charlie Strunk, bicycle coordinator for the county DOT, about 20 people comprise the county's Bicycle Advisory Committee and will help create the bike-network plan.
At the meeting, several maps were displayed showing possible bike routes from Centreville to Fair Oaks, Fair Oaks to Reston and Centreville to Herndon. Residents used them to help decide what physical improvements are necessary to make viable bike trails here.
Eventually, countywide policies and programs needed to support bicycling will be developed. But first, said Goodman, input will be gathered from the realms of health-care, law enforcement and education.
"The bike network will be broken into four quadrants, and it must coordinate with the countywide trails plan and VDOT," he said. "We're broadening the scope of our outreach; we want to tie people's needs together so we come out with one, unified vision."
Toole employees have also gleaned firsthand knowledge of the local road system, doing an extensive field review of major and minor roadways. "We're looking at road and traffic conditions, and we'll make recommendations for intersection and interchange crossing-safety improvements," said Goodman."
"We're measuring existing roads, looking for extra space on them," he continued. "Repaving and adding a bike lane that way is cheaper than widening the road. We're also looking at any dangerous situations, and we're shooting to provide biking facilities for the full range of bikers [both experienced and not]."
Goodman said the hope is to increase and improve the connectivity between on- and off-road bike trails. Doing so would make it more feasible and comfortable for residents to bicycle more often.
Ways of marking bike paths include:
Designating marked bike lanes;

Placing shared-lane emblems on the road showing that bikes and cars share a lane when there's not enough room for a separate bike lane; and

Having a cycle track – a bicycling space separated from both the roadway and the sidewalk.
"Using bikes for transportation is an important part of our vision for the future," said Goodman. "We know Fairfax County is competing with other cities for jobs, and these are the types of things that could reel in potential employers."
With modest growth expected in the Centreville-Chantilly area, he said, "Biking will become even more important. As Metro comes in, access to new stations by bike will be critical."
According to 2010 U.S. census statistics, some 12,000 daily trips to work made by Centreville/Chantilly residents are 3 miles or less. The number of daily trips of 3 miles or less for just schools, shopping and other reasons was 142,113.
So it's no wonder, then, that FABB wants to see more bike lanes and neighborhood connections established here. It would like children to be able to bicycle safety to school and other activities; it also wants residents to have better opportunities to bike to their jobs and other destinations in their everyday lives.
The census also revealed that, for workers living in this county: 72.1 percent drove alone to work; 10.2 percent carpooled; 8.8 percent took public transportation to their jobs; 2.3 percent walked to work and .3 percent bicycled to work. Another 5 percent worked from home and the rest traveled via other means, such as motorcycle or taxi.
But to make the area more bike-friendly, said Goodman, "We need to get across the barriers of I-66, Routes 50 and 29 and the Dulles Toll Road. Other big arteries that are obstacles are West Ox, Centreville and Sully roads."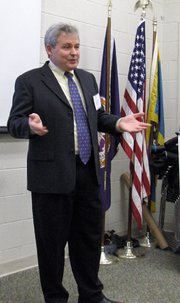 "Often, we can improve conditions for bikes by paving road shoulders," he added. "We were also really happy to see the Sully Woodlands trail plan. If there's a road project coming up, we want to piggyback on it to add in bike-lane improvements."
Basically, said Goodman, "We want people to tell us what streets should have bicycle lanes, cycle tracks, etc.; where are the important, existing connector trails; where are connector trails needed, and where are the gaps in the trail system? What intersections need bike-safety improvements, what are the important destinations to serve, what major barriers need to be addressed and what are the good routes you use today? And what should be done to improve routes to other parts of the county?"
Those attending the meeting were able to fill out a survey to provide their answers to these questions. Other residents may take it online; go to www.tooledesign.com/fairfax, click on "get involved" and then take the survey by March 31.