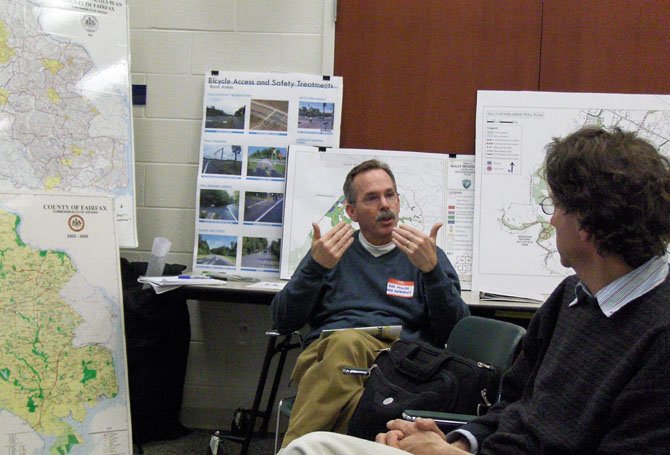 Local residents had their say recently about Fairfax County's plan to create a practical and workable bicycle-transportation network. They said it's about time, but also contended that motorists' attitudes toward bicyclists need to change.
"Most people who see me biking on the road want me to get off," said Julia Glowacki of Centreville's Virginia Run community. "But people should see biking as a mode of transportation that should be supported. Fairfax County, in my opinion, is not a bike-friendly place."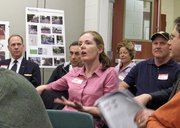 But if the county's Department of Transportation (DOT) and Fairfax Advocates for Better Bicycling (FABB) have their way, conditions for bicyclists will eventually be changing for the better. With help from Toole Design Group, the county is currently developing a bicycle master plan.
"FABB's been a good partner," said Toole senior planner Dan Goodman. "It helped us develop a comprehensive list of everyone in the county who's doing anything bike-related."
And once the bicycle plan is formulated, said FABB Chairman Bruce Wright, "Our job is to get the plan implemented and to have people support it."
According to Kirk Holley, special-projects manager with the county Park Authority, "One out of every two households in the county used a trail last year. It's the largest-used amenity, by a huge margin. But there's not enough advocacy for bike trails and trail maintenance when it comes to county funding."
But at the March 6 bike-plan meeting in Chantilly, Wright said his group will talk to the Board of Supervisors about it during county, capital-funding meetings slated for April 10-12.
Fair Oaks resident Fionnuala Quinn, on the FABB board and a member of the county's Bike Advisory Committee, said people also need to advocate for more and better bike trails. "They need to tell the supervisors that it's important for their safety, access to places and quality of life," she said.
"We really need more voices telling them this is how we want to live," continued Quinn. "Voices really count, and it's a piece that's been missing all these years."
Jeff McGiboney of Oak Hill said that, whenever he bicycles alongside the Fairfax County Parkway, "There are horns blowing and people trying to get me to leave. They're very aggressive." In fact, he noted, a female driver once cut him off and sent him flying over his handlebars.
Quinn said such incidents should be reported to the police "so they can establish a pattern and do something about it."
Sully District Transportation Commissioner Jeff Parnes, of Chantilly Highlands, also bicycles and sees the problems bikers face firsthand. "Centreville Road as it crosses under Route 267 only works if you're going southbound," he said. "Otherwise, you have to cross six lanes of traffic to go north. In the last 20 years, Fairfax County's built roads without regard for the connectivity of the existing trails."
It's even a problem at the neighborhood level. "My three boys bicycle, but they can't cross Pleasant Valley Road," said Glowacki. "We live in a neighborhood of 1,200 homes, and it's a shame — you can't get to the other side. During rush hour, it can take 10 minutes to cross the road. Last year, a boy was hit on a bike."
That's why advocates of the bike plan say it's crucial for the county to put something in place. Once something is recommended, it'll first go to the Planning Commission and then to the supervisors.
Charlie Strunk, the county DOT's bicycle coordinator, said a plan will get adopted, but budget concerns could make actually implementing it a trickier prospect. "We'll do the least-expensive things first," he said. "We get a little federal money and we also depend on developers to put in bike lanes. But the bicycle program hasn't been funded, the past three years." However, he added, "Having this planning document is also important for VDOT to know where the county plans on having bike lanes."
McGiboney bicycles to his job in McLean every day. So, he said, "A bike plan would be wonderful and would make things easier. If they continue to develop this program, a lot more people will use the system to bicycle. Schools could also have incentive programs for kids to ride their bikes to school, instead of driving."
Quinn said there are many county residents "for whom bikes are their sole mode of transportation, so they often have no choice but to ride on roads unsafe for them. For example, Route 50 is very difficult for bicyclists going under Route 28 because it's not designed for bicycles. So dollars spent on bike facilities are cost-effective because they have huge safety, traffic and health benefits."
More information about FABB is at www.fabb-bikes.org. Further bike-project details may be seen at www.tooledesign.com/fairfax.