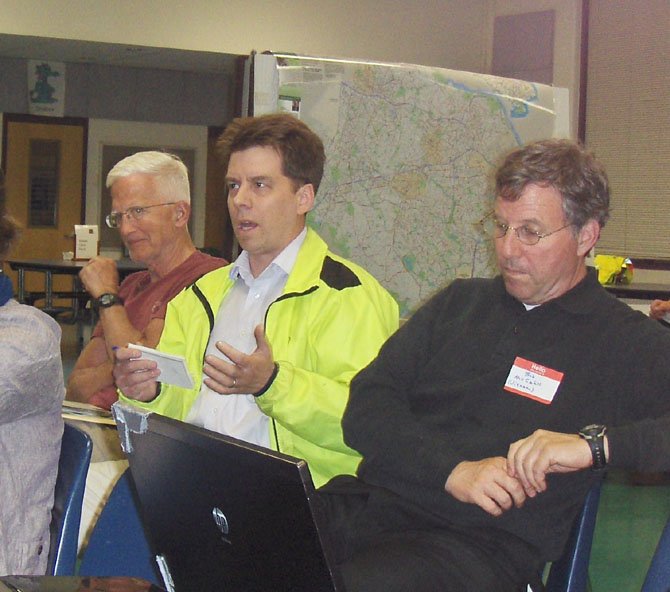 Fairfax — With help from Toole Design Group and Fairfax Advocates for Better Bicycling (FABB), Fairfax County is currently developing a bicycle master plan. And last week, local residents had their say about these efforts to create a practical and workable bicycle-transportation network.
"If you know of a bike program another community is doing that works well, let us know," said Dan Goodman, a senior planner with Toole. "And once we have a draft bike-network, we'll put it on our Web site, www.tooledesign.com/fairfax."
Fairfax resident Douglas Stewart said the City of Fairfax has already created a new map of its own of on- and off-road bike trails. He lives in the Kamp Washington area, enjoys bicycling and wants to encourage more people to do so.
He told Goodman that, during April, several local bicycle enthusiasts will ride from Fairfax to the Vienna Metro station. "Will there be any recommendations [in the county's bike plan] bearing directly on Fairfax City?" asked Stewart. Goodman said there will.
Tom Ross formerly worked with the National Park Service to promote trails and greenways and now lives in the Old Lee Hills area of Fairfax. "Biking is a much more human way of getting around, in terms of the community," he said. Ross also asked Goodman to brief the Fairfax City Council on the plan "to make this as seamless as possible. Where you can connect to the trail system, it really helps a lot."
A female resident asked if crash and accident data would be incorporated into the plan. "Eventually, we'll have a list of 100 intersections people said were bad," replied Goodman. "We'll prioritize them and will look at their traffic volumes and crashes."
That's another reason creating a countywide bicycle plan is so important, added FABB board member Fionnuala Quinn, a Fair Oaks resident and member of the county's Bike Advisory Committee. "There could be safety benefits for the residents when bike lanes are added," she said. "This is about basic safety and access – and for some people, it's their only mode of transportation."
Agreeing, Goodman said, "We've seen that, when bike lanes are added to a road, traffic there calms down."
However, FABB Chairman Bruce Wright warned that the county Department of Transportation has no funds to put the final bike plan into action. So, he said, "Our job is to advocate for the plan and for the funding to implement it."