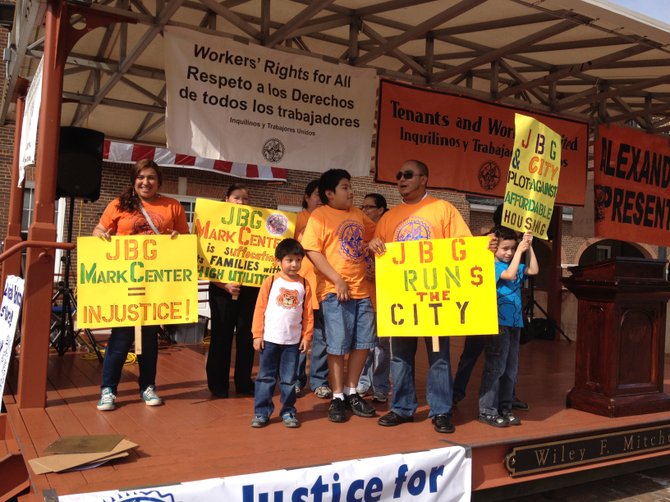 Alexandrians for a Livable City Endorsements
Victoria Menjivar
Sammie Moshenberg
Arthur Peabody
Allison Silberberg
Boyd Walker
Democrats for a Better Alexandria Endorsements
John Taylor Chapman
Tim Lovain
Sammie Moshenberg
Arthur Peabody
Boyd Walker
Justin Wilson
Hector Pineda is one of thousands of residents who live in the sprawling series of garden apartments on the city's West End, which has been one of the last remaining spots in the city for low-income residents. Pineda says his family income is $43,000, well under the average median income. That's why he and many of his neighbors are organizing this campaign season against the city's plan to demolish the building he lives and allow a developer to more than double the allowable density. Appearing at a May Day rally in Market Square, Pineda says members of the City Council need to know the consequences of their actions.
"We are a voting people," said Pineda, who works for a house-cleaning company. "We will see who Alexandria city is with — is it with the hard-working people or is it with the big money?"
Big money is at stake with the Beauregard small-area plan, which is on the docket for the Planning Commission to consider this week. The City Council could vote on the plan as early as May 12. That puts incumbent members on the hot seat, potentially voting in favor of a plan that would benefit developer JBG. Many West End residents and their supporters say the developer would gain at the expense of low-income and Latino residents who live there now.
"Where are our elected officials that we elected into office? This is our tax dollars that are paying for almost everything here, and we're treated like stepchildren," said Gabriel Rojo, executive director of Tenants and Workers United. "This is an outrage."
FROM THE WATERFRONT to the West End, many voters are outraged at recent actions of the Alexandria City Council. Much of the anger is focused at the two Democratic incumbents and two former Democratic incumbents who will be on the ballot for the June 12 primary — Tim Lovain, Del Pepper, Paul Smedberg and Justin Wilson. They were all members of the City Council when a deputy city manager sent a letter to the Department of Defense endorsing the Mark Center as a potential location for the Washington Headquarters Service. The letter said the city was "comfortable that sufficient capacity will be created" and that "no additional traffic studies are warranted," a conclusion that has angered many West End residents who fear traffic gridlock as a result of the new military installation.
"I didn't see that letter until after it was sent," said former Councilman Justin Wilson when asked about the letter in January. "Our decision up to that point had been about making a zoning determination and figuring out a way to get money in lieu of taxes, so I was surprised to see that transportation was part of the letter."
Anger over BRAC-133 isn't the only thing troubling voters. The controversial waterfront plan continues to be a lightning rod, especially since the Board of Zoning Appeals overturned a determination by Planning Director Faroll Hamer that neighborhood residents were not allowed to file a protest petition requiring a supermajority vote. This week, a group known as Alexandrians for a Livable City endorsed all five Democratic candidates who are on record saying they would have voted against the plan, none of whom are incumbents — Arthur Peabody, Victoria Menjivar, Sammie Moshenberg, Allison Silberberg and Boyd Walker.
"A lot of people who are active Democrats are really upset about the waterfront plan," said Katy Cannady, who organized the political action committee. "It may not be an issue across the city, but it's certainly the top issue in Old Town, just like the Beauregard small-area plan is the top issue on the West End."
ENDORSEMENTS IN THE PRIMARY show a rising tide of discontent with the direction of leadership in the city, an indication that this year's primary may be more closely contested than in recent memory. This week, former Councilwoman Joyce Woodson endorsed two non-incumbents, passing over the incumbents that she served with when she was a member of the City Council in favor of supporting new voices.
"Alexandria is at a turning point," said Woodson in her endorsement of Victoria Menjivar and Sammie Moshenberg. "We can either continue to make our city livable and affordable for only the wealthy or we can build an Alexandria where all our residents have the opportunity to work, live and raise families."
Another group calling itself Democrats for a Better Alexandria has also endorsed a slate of six candidates, although the lines of distinction are not as clear as Alexandrians for a Livable City. Led by prominent Democrats Jack Sullivan and Dorathea Peters, the group is endorsing the two former incumbents, Tim Lovain and Justin Wilson. Together with John Chapman, the group includes three people who would have supported the waterfront plan. But it also includes opponents of the waterfront plan — Sammie Moshenberg, Arthur Peabody and Boyd Walker.
"We were looking for people who would, maybe from time to time, think outside the box," said Peters.