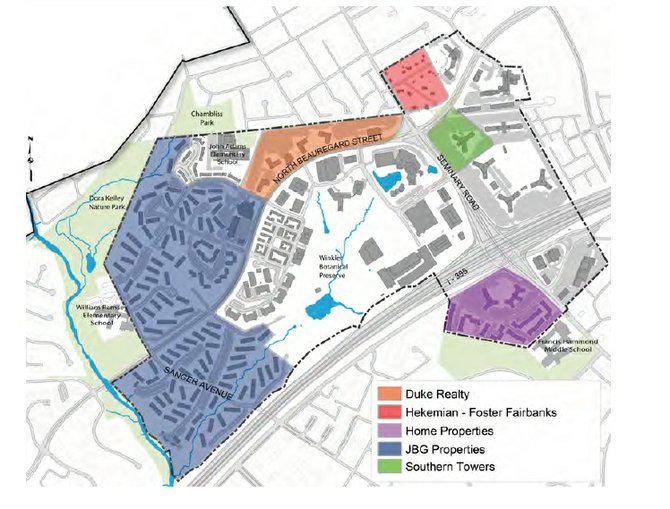 Alexandrians for a Livable City Endorsements
Victoria Menjivar
Sammie Moshenberg
Arthur Peabody
Allison Silberberg
Boyd Walker
Democrats for a Better Alexandria Endorsements
John Taylor Chapman
Tim Lovain
Sammie Moshenberg
Arthur Peabody
Boyd Walker
Justin Wilson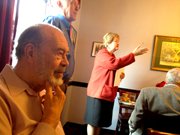 The fiercely competitive Democratic primary for the Alexandria City Council is about to get even more intense this weekend, as current council members take up the most controversial development proposal since the waterfront plan. At issue is the fate of thousands of low-income West End residents whose garden apartments would be demolished as part of the Beauregard small-area plan that would more than double the existing density in the sprawling hills west of the Shirley Memorial Highway.
Two incumbent Democrats, Councilwoman Del Pepper and Councilman Paul Smedberg, will cast votes that may come to define their time in office. Along with their support of the controversial waterfront plan, which more than doubled the density at three sites compared to what's there now, Pepper and Smedberg are facing an increasingly skeptical electorate. Last week, a group known as Democrats for a Better Alexandria endorsed a slate of candidates that did not include either Pepper or Smedberg.
"We were looking for people who would, from time to time, think outside the box," said Dorathea Peters, one of the organization's leaders.
Her group is only one of a handful of groups of Democrats that are endorsing rival slates of candidates in the June 12 primary. Another group known as Alexandrians for a Livable City specifically mentioned the Beauregard small-area plan as a litmus test in its endorsement of five candidates, singling out Democrats who have been critical of the small-area plan.
"In many ways, this is an even worse plan than the waterfront plan," said the group in a written statement announcing the slate. "We believe that any candidate who says he or she supports diversity and affordable housing and does not speak out against the Beauregard plan is not credible."
LINGERING OVER THE campaign is the ghost of the waterfront plan, which has now been put on hold as challenges to the upzoning are considered in court. Once again, Alexandrians for a Livable City took a much more consistent line of supporting candidates who stand in opposition to the waterfront plan. Leaders of Democrats for a Better Alexandria, on the other hand, acknowledge that many voters are opposed to the proposal, although the slate of candidates represents a mix of candidates that support and oppose the proposal.
"We were looking for candidates with intellectual heft," said Rod Krukro, a member of Democrats for a Better Alexandria. "And we wanted to make sure they had diverse backgrounds."
Another group calling itself Securing Alexandria's Future is preparing yet another slate of endorsements. Its leaders indicate the endorsements will probably support candidates that have been favorable to the waterfront plan. The list includes former Councilman David Speck, Waterfont for All Founder Gina Baum and businessman Murray Bonitt.
"We are proud of our democratically-run city and its accomplishments," the group wrote in a April 28 letter to candidates. "Lately, there have been issues that have dominated the news and diverted the public's attention from the fact that overall government including public safety, transportation, education, economic development, garbage collection, planning, technology, and public works, operate well in Alexandria."
MEANWHILE, ON THE Republican side of the ticket, Democrats will be challenged by another high-profile Republican who formally threw his hat into the ring last week. Waterfront work group member Bob Wood, who spent months criticizing the waterfront plan, is now officially a candidate for Alexandria City Council. Announcing his candidacy in a Market Square press conference, Wood indicated his campaign would offer a strong challenge to the direction of city government in recent years.
"Planning slogans like smart growth, transportation corridors and modern urban design substitute for innovative, sensible even inspiring development," said Wood. "To those who recall past city planning mistakes, it all sounds too much like the urban renewal that almost cost the city its history. To those about to lose their affordable homes or suffer cut-through traffic, it all sounds like failure in fairness and common sense."