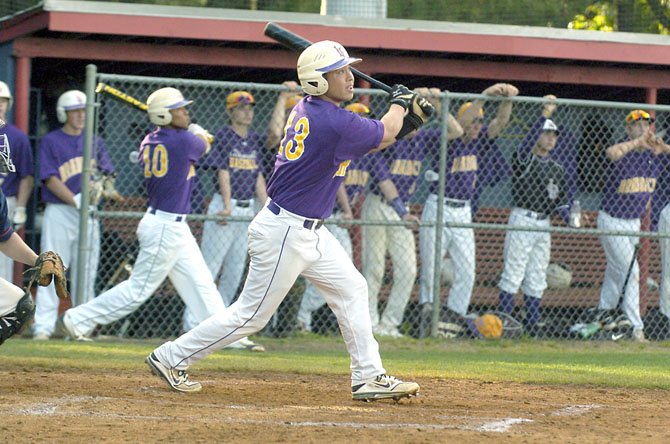 Fairfax — After falling behind early in Tuesday's game at Woodson, the Lake Braddock baseball team put on a third-inning display of offensive versatility.
First it was sophomore Jack Owens loading the bases by laying down a sacrifice bunt so well-placed it turned into a hit. Two batters later, junior Alex Gransback cranked a grand slam over the center-field fence. Junior Alex Lewis then doubled off the fence in center and later stole third. After junior Mitch Spille delivered an RBI single, senior Matt Spruill executed a perfect hit-and-run, rolling a single through the right side of the infield where the Cavaliers' second baseman once stood.
"We have the opportunity on offense to be able to win games in a lot of different ways."

— Lake Braddock baseball coach Jody Rutherford
LAKE BRADDOCK tallied six runs in the frame and cruised to a 9-2 victory on May 1 in Fairfax. The win improved Lake Braddock's record to a Northern Region-best 16-1, and showed how many different ways the Bruins can beat an opponent in the batter's box and on the base paths.
"We have the opportunity on offense to be able to win games in a lot of different ways," head coach Jody Rutherford said. "Tonight, we were able to do a couple things. Really, the situation of the game dictates what we're going to do. It's good to have options offensively."
With so many weapons at his disposal, Rutherford faces the challenge of not over-thinking his options.
"It's one of those things where you feel like you overdo it every time you get thrown out stealing a base or something like that," Rutherford said. "It's great when the hit-and-run works, but if the guy swings through it and we get thrown out, it doesn't work. You've got to not force the issue and let it come to you in the right situations based upon who's at bat and who's on the bases."
While craftiness and execution played a role in the Bruins' offensive output, the most influential blow delivered by the Lake Braddock lineup was a product of power. With the bases loaded and one out in the top of the third, Woodson pitcher Mike Thomas was one strike away from inching closer to escaping a monumental jam. Instead, Gransback launched a 3-2 fastball to deep center, giving the Bruins a lead they would not relinquish.
"I think it just really changed the momentum of the game," Gransback said. "We were down [by two runs], not as loud and intense … and it just shifted from there."
WOODSON ENTERED each of the first four innings with a different pitcher and used seven throughout the contest. Head coach Chris Warren said spreading the workload among the Cavaliers' staff was a way to deal with a three-game schedule this week. The strategy didn't stop Lake Braddock from producing at the plate.
"They're a good team and they put the ball in play," Warren said. "… We didn't really do the things we needed to do to stay in the game. At the end of the day, when you play a good team, you have to make plays, you have to eliminate mistakes and unfortunately, we just didn't do that tonight."
Lake Braddock senior Dylan O'Connor, Owens, Spille and Spruill each had two hits.
"I thought it was kind of a good idea," Gransback said of Woodson's pitching strategy. "I've never seen it. It worked for a few innings."
While the Lake Braddock offense produced nine runs, starting pitcher Michael Church bounced back from allowing two in the second. Woodson had five hits in the frame, including a pair of infield singles, but Church wasn't rattled. After the Bruins took the lead with six runs in the top of the third, Church retired the next seven batters he faced and 11 of the final 13. He pitched six innings, allowing seven hits and two walks while striking out five on his way to a win.
"I've always been taught to keep my composure on the mound," said Church, who will play at James Madison University next season. "If you show emotions on the mound, [an opponent is] just going to feed off that. … [Gransback's grand slam] was huge. Down 2-0 --- and I had a lot of pressure on me before that --- but then after that it gave me a two-run lead, gave me some insurance runs. I'm just happy to have such a good offense to work with."
Woodson will travel to face Lee at 6:30 p.m. on Friday, May 4. Lake Braddock will host Annandale.