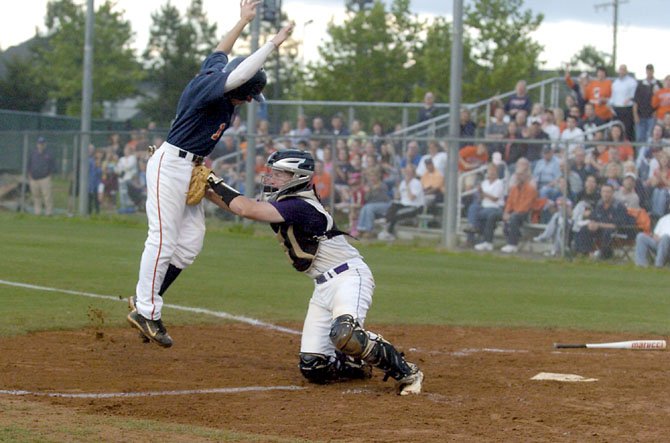 Lorton — While Lake Braddock coaches and players hung out on the South County baseball field after the Patriot District tournament final, center fielder Alex Gransback and catcher Garett Driscoll snuck into the third-base dugout in search of a water bucket.
After acquiring the container, the duo headed back onto the field with the intention of soaking head coach Jody Rutherford with a celebratory shower. Gransback walked up and hugged Rutherford as an attempted distraction, hoping Driscoll would work his way behind the coach before emptying the bucket's contents. Instead, Driscoll walked up behind Gransback and dumped the water, leaving his teammate to take the brunt of the aqua assault while Rutherford escaped relatively unscathed.
"Poor technique," the coach said.
While their execution of postgame antics left something to be desired, the Bruins' in-game performance against West Springfield was far more effective.
The Lake Braddock baseball team pounded 10 hits and played solid defense behind starting pitcher Michael Church en route to a 7-2 victory against West Springfield on May 21 in the Patriot District championship game. The Bruins captured their second district title in three years, improved their record to 20-2 and secured the district's top seed heading into the Northern Region tournament.
Lake Braddock reached the state tournament last season and is ranked No. 1 in the Washington Post's top 10 poll. However, the Bruins aren't going to let high expectations keep them from enjoying success in the early stages of what could be a deep postseason run.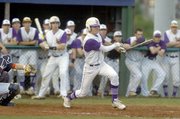 "You've got to get them one by one," senior left fielder Dylan O'Connor said. "This is what we look forward to. We haven't looked past a district championship at all. This is what we wanted to win first and luckily we've got this, now we can move onto the region."
Rutherford echoed the senior's statement.
"We're going to take the time to enjoy this," the coach said. "It's harder when you're expected to win. It's a little bit more of a grind; it's a little bit more pressure on you. That part of it is tough, but we're definitely going to enjoy it. We definitely have plans for winning more games, but we'll take time to enjoy this because you never know how many more games we'll play this year."
O'Connor went 2 for 3 against West Springfield, including a two-run double in the fourth inning. In left field, O'Connor made a trio of fine catches in the late innings.
Lake Braddock led 6-1 in the sixth inning when West Springfield shortstop Taylor Boyd hit a deep fly ball with one on and nobody out. O'Connor went back and made an acrobatic catch near the fence. The following batter, center fielder Nick Stevens, hit a fly ball that O'Connor chased down in foul territory.
In the bottom of the seventh, O'Connor ended the game with another catch on near the fence.
"[O'Connor] had a really, really good basketball season. I was hoping when he came out this year that that would kind of carry over to the baseball field and it really has," Rutherford said. "Tonight, [he had a] big game. He wanted to take charge and be a leader. It was a great game for him. We've had confidence with him. He does a lot of things for us --- a lot of small things that don't show up in the stats. He's been invaluable for us."
Second baseman Matt Spruill got Lake Braddock on the board first, smacking a two-run home run to center field in the second inning. Designated hitter Nathan Parker delivered a run-scoring single in the second and Gransback drove in a run with a sacrifice fly in the fourth. The Bruins' seventh run scored on a West Springfield wild pitch in the sixth.
"[Lake Braddock is] a tough team, no doubt about it. They're the team to beat in the region, in my opinion."

— West Springfield baseball coach Jason Olms
Church, the co-Patriot District Pitcher of the Year, earned the victory with a complete-game effort on the mound. He allowed two runs --- one earned --- and eight hits in seven innings while walking one and striking out five. He threw 61 of 101 pitches for strikes and held the Spartan lineup to one earned run despite throwing a first-pitch strike to 11 of 27 batters.
"It wasn't by any means his best effort, physically," Rutherford said. "Mentally, he was tough as he always is. Physically, he struggled with command early in the count. West Springfield, they did a great job. That's the best he's been hit all year. Some of the credit has to go to them and their approach at the plate."
Trailing 3-0, West Springfield strung together three consecutive two-out hits in the third inning, but a solid play by the Lake Braddock defense held the Spartans to just one run. After back-to-back singles by pitcher Frank Sturek and Boyd, Stevens doubled in a run. But on the play, center fielder Gransback picked up ball, hit the cutoff man, shortstop Jack Owens, who threw home to cut down Boyd at the plate for the third out of the inning.
In the fifth inning, West Springfield third baseman Ryan Smith hit a fly ball to left with home-run distance, but it sailed foul. Later in the at-bat, he flew out to deep center.
Catcher Donny Haeuptle went 2 for 3 with an RBI for the Spartans.
"I was proud of the way we played," West Springfield head coach Jason Olms said. "[Lake Braddock is] a tough team, no doubt about it. They're the team to beat in the region, in my opinion."
Lake Braddock had six players named first-team all-district: Spruill; Owens; third baseman Alex Lewis; Gransback; pitcher Thomas Rogers and Church. Rogers and Church were named co-Pitchers of the Year and Rutherford received Coach of the Year honors.
Haeuptle and pitcher Connor Tagg received first-team accolades for West Springfield.
Lake Braddock will host Wakefield, the No. 4 seed from the National District, at 7 p.m. on Friday, May 25. West Springfield will host Washington-Lee, the National District's No. 3 seed.
"District championships are awesome for us," Church said. "It's just one step closer to a state championship."