About Volunteer Fairfax
For more than 35 years, Volunteer Fairfax has been the heart of volunteering in Fairfax County. With a personal touch, the center's staff matches the skills and interests of volunteers and donors to the needs of local nonprofit organizations, helping to build a better community through service. Through a variety of programs and services, Volunteer Fairfax strengthens the capacity of its nonprofit members and offers meaningful volunteer opportunities for local citizens. Volunteer Fairfax was recently listed in the Catalogue of Philanthropy, which shines a light on smaller, community-based nonprofits. Since 1993, Volunteer Fairfax has honored more than 2,500 individuals for their commitment to volunteerism through its annual Volunteer Service Awards celebration, the largest in the region.
To learn more, go to www.volunteerfair....
Photo Gallery
20th Annual Volunteer Service Awards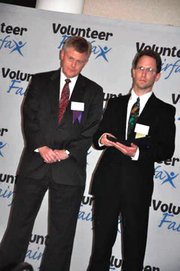 Click Photo for Flash
"Volunteers aren't paid, not because they are worthless, but because they are priceless."
Eleanor Roosevelt's famous sentiment was echoed by numerous community and civic leaders who gathered at the Waterford in Springfield Friday, April 27, to celebrate 118 Fairfax County volunteers during the 20th annual Volunteer Service Awards hosted by Volunteer Fairfax.
"When you volunteer, you vote every day about the kind of community you want to live in," said Congressman Gerry Connolly (D-11), who delivered a short address to the more than 400 guests attending the region's largest celebration of volunteers.
"Even when the earth shakes us, we stand behind the enduring legacy of service in this community," said Jeanne Sanders, Volunteer Fairfax executive director, who showed a slide of the small bungalow on Page Street in Fairfax that serves as the nonprofit's headquarters. The building remained standing even after last summer's magnitude–5.8 quake rattled the region. "Nothing shakes our volunteer spirit," Sanders said.
Established in 1993, the Fairfax County Volunteer Service Awards honors individuals, groups and organizations which have donated time and energy to a broad range of activities and programs.
"Whether they are helping neighbors in need or building communities, volunteers are always finding new ways to continue the legacy of service," Sanders said, adding that this year's nominees volunteered 205,688 hours of service to the community, equivalent of eight hours a day, five days a week for one year, totaling $4.5 million.
Volunteers were nominated in three categories: a competitive Volunteer Service Award; a Community Champion Award for outstanding community leadership, submitted by each member of the Fairfax County Board of Supervisors; and a Benchmark Award for volunteers who achieve a certain number of service hours performed in a calendar year.