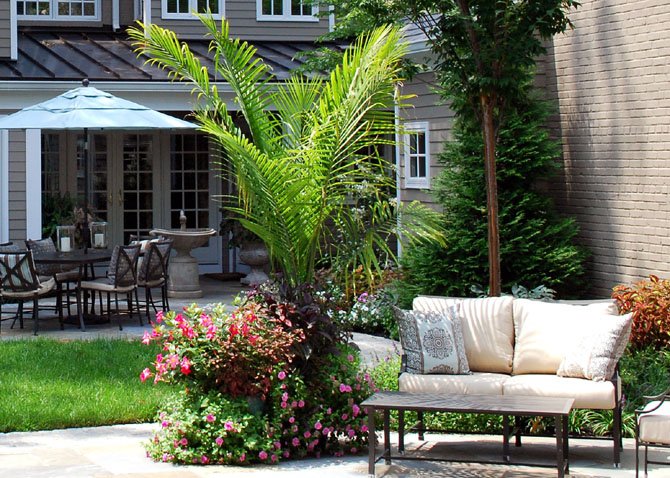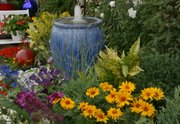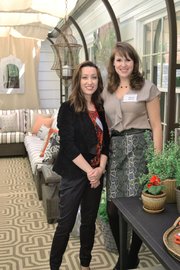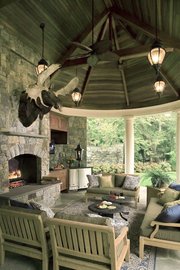 Warm weather means more time spent lounging by the pool or grilling on the patio. A winter-worn outdoor space can make popular warm weather pastimes less than appealing.
Creating a space that provides both comfort and style can be a daunting undertaking. Local designers are offering suggestions for creating a luxurious retreat fit for relaxing or outdoor entertaining.
When a home's interior flows effortlessly into its outdoor surroundings, a patio or deck becomes an extension of the house. "Accessories are now focused on bringing indoor luxuries outside," said McLean-based designer Shanon Munn of Ambi Design Studio in McLean. "Outdoor furniture is now made larger and more comfortable, and outdoor fabrics are more beautiful than ever. We're really able to match the outside more closely to a home's interior."
Lamps, mirrors and even chandeliers are among the trendiest alfresco accents. Outdoor rugs deliver an instant elegant impact. "Another nice luxury is an outdoor articulating fan," said Munn. "Those work twofold. They keep you and your guest cool and keep mosquitoes away."


INDULGENCE WAS THE THEME on a Potomac patio designed by Jim Rill, principal of Rill Architects. He furnished the space with kitchen appliances and a television, all built for outdoor use, and topped it with a stained wood ceiling. "It's like having a living room outdoors," said Rill. "The spaces are connected to the outside, while also protected from the elements."
When designing the patio of an Alexandria home, Landscape architect Stephen Wlodarczyk of Botanical Decorators incorporated flowers in bursts of color. "I see the use of bold colors being the trend," he said.
Wlodarczyk said that growers are developing "designer" flowers in hues that span the color spectrum. He has a penchant for coneflowers, which bloom throughout the summer and come in varieties with names like hot lava, gumdrop and Maui sunshine.
David Watkins, a Fairfax Station resident and manager of Merrifield Garden Center in Fairfax, Gainesville and Merrifield agrees that brightly colored blooms pack a powerful punch. "We're adding vibrant colors to landscapes with flowers like knockout roses and endless summer hydrangeas," he said.
The trend extends to patio furniture. "We're going from patio umbrellas and chair cushions in browns and blacks to colors like magenta," said Watkins.


TO MAKE A PATIO or deck child-friendly, Nancy Towmey, principal designer of Finnian's Moon Interiors, an Alexandria-based firm, suggests weatherproof storage ottomans and child-sized tables and chairs. "Kids like to be comfortable just like everybody else," she said. "Ottomans a great for holding their toys."
Don't skimp when it comes to quality. "I would encourage people to buy something decent. It is usually worth the money to invest in something decent," she said.
Gina Benincasa, landscape designer with D&A Dunlevy Landscapers, Inc. says that when building the patio of a McLean home recently, her team paid particular attention to the foundation. "Trendier patios are now very detailed and use all different kinds of stone like limestone and travertine stone," she said. "Adding a pebbled mosaic as part of the patio or in some cases the whole patio is really decorative and can give it a European feel."