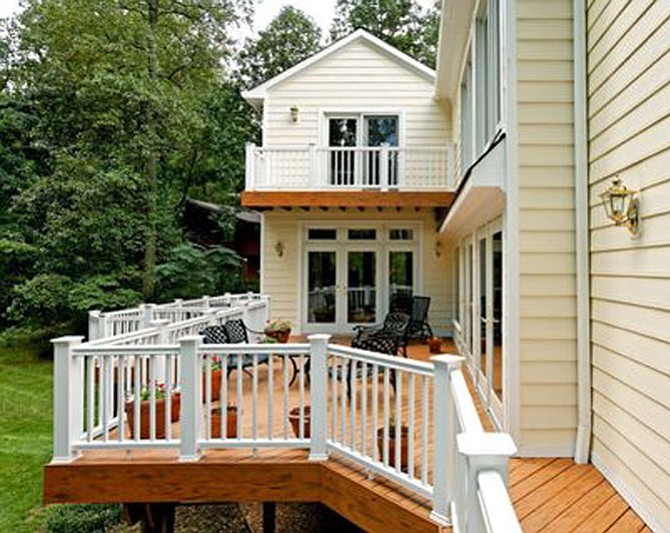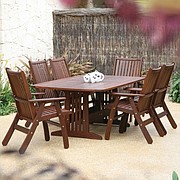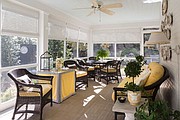 Lured outside by rising temperatures and blue skies, homeowners are deciding that it's time to spruce up patios, gardens and other outdoor living spaces. Local tastemakers are hard at work transforming winter-worn al fresco spaces into lively oases in time for a season of warm-weather entertaining.
"I have already been extremely active this season working with various clients in the region to focus on their outdoor spaces so that they may entertain outdoors as much as possible, for as long as possible this season," said Philip Smith, design consultant for Offenbachers, an outdoor furniture and accessories company with showrooms in Springfield and Fairfax. "I have looked to fresh, light and natural palettes, making an effort to mix materials whenever possible."
"Outside living areas should be an extension of your indoor space and style, so focus your energy on quality products," said Smith. "Consider accessorizing with throw pillows, rugs, lighting and potted plants, and leverage bright colors to be even more playful and on trend each season."
Smith points to a recent project in which he anchored the client's covered porch with four of their existing white Adirondack chairs, adding fresh pops of color with teal and yellow cushions. "It created a great transition from their kitchen, making it a natural extension of where they say most of their guests gather," he said.
Color is the anchor on a Bethesda, Md. porch that Kelley Proxmire, principal of Kelley Interior Design completely recently. "We used yellow as the main theme and added complementary elements such as plates displayed on the wall," she said. "Adding mirrors to an outside or seasonal space [also] gives it dimension and interest."
Families with luxurious outdoor living spaces are eager to use them often throughout the warm weather months, that's why it's a good idea for homeowners to "invest [and] choose quality pieces that are easy to maintain and can withstand weather, but easily be updated for style as needed over the years," Smith said.
When shopping for outdoor furniture, look for materials that can stand up to longer use and weather elements. High quality fabrics, says Smith, will not retain moisture and attract mosquitoes.
A longer season also means the need to factor in aesthetically appealing heat solutions, such as a fireplace or fire pit. "They serve as a great focal point and can aid in deterrence of mosquitoes," said Smith.
Creating a seamless transition from a home's interior to an outside living area is a trend that Smith recommends. "For another client whose dining space is closest to the patio entry, I actually brought in a new outdoor bench cushion to use in their dining room to tie in the new grey Lloyd Flanders Mackinac seating just outside on their patio," said Smith. "Since they experience a great deal of direct sunlight, then early shading due to their trees overhead, we [added] an underlit umbrella to give the most shade during peak times and offer ambience once the sun sets."
Foliage is another weapon in the war on mosquitoes. "Think succulent plant options to minimize water consumption and excess moisture [and] keep mosquitoes away," said Smith. "Feel free to mix materials and pieces to suit what looks and feels good to you to refresh what you already have."
Michael Winn, principal/owner of Winn Design + Build, transformed the deck of a McLean deck home. He advises those considering adding such a space to design an outdoor area which can accommodate larger groups of people when entertaining For example, he suggests "selecting doors, such as a quad-panel gliding door or full-swing French door, to create a large opening for joining the interior and exterior spaces."
Using a variety of levels for decks and patios is a trend that Winn advises homeowners to avoid. "They may look good, but they often limit the functionality of the spaces and can be tripping hazards for unaware guests," he said.
The guidelines for lighting an outdoor space are the same as interior spaces: ambient, task and accent. "All three should be considered for a layered effect," said Winn.