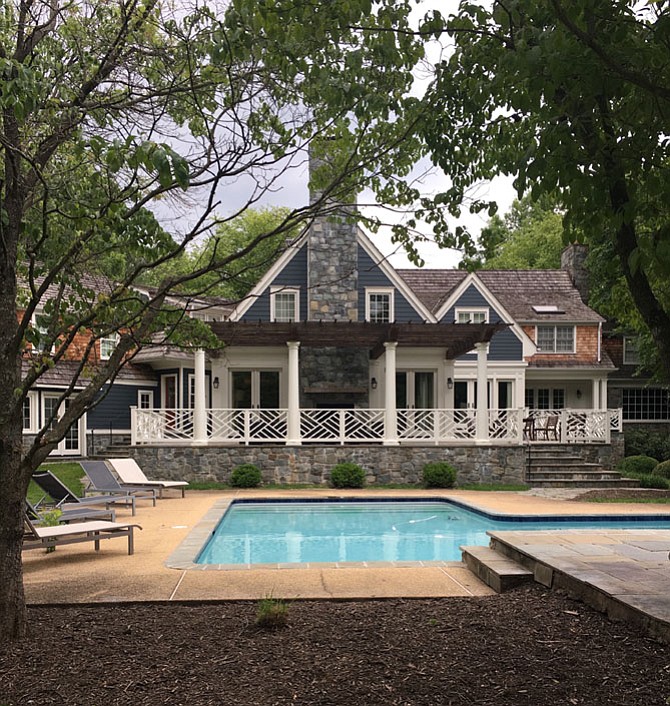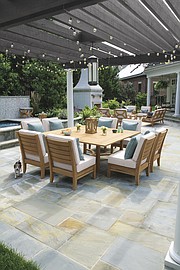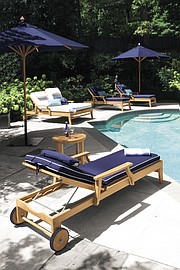 "It shouldn't just be an outdoor patio, but an extension of the indoor spaces." — Jim Rill of Rill Architects
The warm days and nights of summer lend themselves to outdoor entertaining. From colorful pillows and cozy throws to textured fabrics and jewel-toned tableware, local designers offer ideas for creating a festive space for an alfresco soiree.
Consider the way an outdoor space will look when it's viewed from inside your home, says Madeline Fairbanks, product development director, Country Casual Teak.
"Choose fabrics that coordinate and accent the colors used indoors to create a seamless transition between the spaces," she said. "Add texture with fabrics, from gauzy sheers to the heaviest brocades, to bring the textures of indoor upholstery outdoors. An added plus is that they help hide dirt and stains."
The transition from a home's interior to its exterior should be fluid, advises Jim Rill of Rill Architects. "It shouldn't just be an outdoor patio, but an extension of the indoor spaces," he said.
Rill suggests using outdoor walls, fireplaces and trellises to create a sense of scale and comfort. "For instance, stone walls, hedges, pools and ponds help give an outdoor setting scale and coziness," he said. "Think of the outdoor space as a room and consider how it's organized with furniture and materials like you would an indoor room. Patterns in the patio materials also organize the area."
Outdoor entertaining is often food-centric and for an upbeat outdoor table setting, Todd Martz of Home on Cameron in Old Town Alexandria suggests acrylic table accessories. "Incorporate colorful pitchers, glasses and plates to set the stage for a festive gathering," he said.
Have a few key pieces for hosting, whether you entertain weekly or just once a year, recommends Fairbanks. "Keep a bar cart near an entrance for wheeling refreshments to guests, or an outdoor sideboard near a dining area for easy buffet-style service," she said.
For chilly nights, drape throws on the outdoor seating for guests, advises Martz. "With the popularity of fire pits, add comfortable seating with indoor-outdoor cushions around them to enhance the experience," he said.