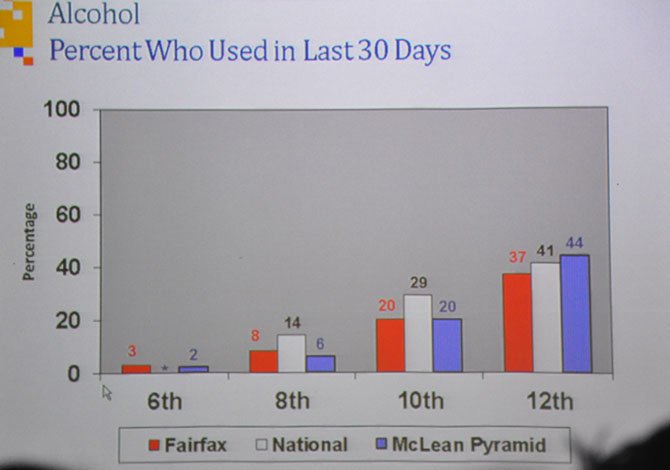 McLean — The McLean High School PTSA hosted a meeting Wednesday, May 2 to discuss the McLean High School pyramid-specific results from the 2010 Fairfax County Youth Survey. The annual survey, which is filled out by eighth, 10th and 12th graders (as well as a modified version taken by sixth graders) is meant to gather data on student behavior, both positive and negative.
The 2010 survey was taken by more than 44,000 students, representing 86 percent of enrolled students in the sampled grades.
"When it comes to using the data, the Unified Prevention Coalition used it to get an alcohol and drug prevention grant, which will be used county wide," said Marcus Allen of the county's Department of Neighborhood and Community Service. "The school system has also used the data to get grant money for physical activities and nutrition and the county also used it to get money for a community transformation grant, which is a county-wide initiative to reduce chronic diseases. So we use this data a lot … it has probably brought about half a million dollars to the county."


WITHIN THE MCLEAN HIGH SCHOOL PYRAMID, the survey was taken by 1,225 students: 496 eighth graders, 421 10th graders and 308 12th graders.
Overall, the McLean pyramid numbers were approximately the same or more positive than countywide numbers. Students who reported bullying somebody (16 percent compared to 24 percent in the county), used inhalants (1 percent compared to 4 percent countywide) and depression (14 percent to the county's 23 percent) were all lower in numbers.
According to the numbers, McLean pyramid students also reported a larger acknowledgment of the risks involved with alcohol, marijuana and cigarette use than the county as a whole.
Dede Bailer of the county's School Psychological Services, said there were some disturbing trends in the alcohol data.
"We're looking at 50 percent of students who think it's not wrong at all and seeing as they're all underage, we really need to look at that risk," she said. "Twenty percent of our sixth graders said they had more than a 'sip or two' of beer wine or liquor in their lifetime."
However, seniors at McLean reported higher alcohol use in the past 30 days (44 percent to the county's 37 percent), higher instances of binge drinking (25 percent to 21 percent) and marijuana use in the last 30 days (22 percent to 19 percent).
McLean High School Principal Deborah Jackson said she has noticed trends in recent years as well.
"The number of students I've had to recommend for expulsion in ninth and 10th grades for marijuana possession is the highest I've ever seen," she said.
"It's up to parents to have open an honest conversations with their kids, no one can afford to say 'it's not my child.'"


WILMA BOWERS, A PTSA OFFICER, said while there are concerning numbers that the schools need to address, she wanted to make sure people also saw the positive.
"When you look at the slides, try turning them upside down. Yes, 44 percent of our 12th graders are regretfully choosing to drink alcohol. It's illegal, it's not good for your brain and body. But 56 percent are choosing not to," she said. "Let's celebrate the 56 percent, and let's share this data with our kids. I shared it with my daughter and her friend and for them to hear that 56 percent aren't drinking was encouraging to them. Let's encourage our kids to be a part of the chart that chooses to experience a healthier lifestyle."
Jackson said that she attends PTSA meetings, and that these numbers, as well as other trends are discussed and encouraged all parents to come to the monthly meetings. The next McLean PTSA meeting will take place May 14 at 7 p.m. at the McLean High School Library.