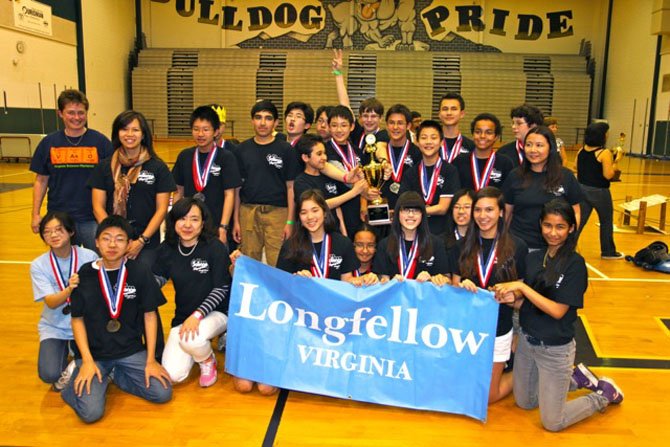 Longfellow Middle School is celebrating its Science Olympiad team's recent victory in the Virginia state championship. This year's state tournament featured 29 schools, including local rival Kilmer MS, which had narrowly defeated Longfellow last year. This
time, Longfellow pulled well clear of the competition with an outstanding performance: team members won the gold medal in 12 of the tournament's 23 events, and placed second or third in 8 other events.
To achieve this level of success, Longfellow's team had spent six months studying a wide range of scientific topics--such as geology, biology, epidemiology, thermodynamics, physics, and experimental design--as well as building catapults, towers, mousetrap vehicles, and other machines for the competition.
The students aren't taking time to rest on their laurels. Up next for Longfellow: a trip to Florida to compete at the Science Olympiad national tournament, which will be held at the University of Central Florida in Orlando on May 18-19. The students are looking forward to matching up against the best teams from around the US, including four-time defending national champions Solon MS of Ohio.
Longfellow's state championship team included Phil Carr, Allen Cheng, Emma Fan, Joanna Gerr, Henry Howe, Junyoung Hwang, Gerald Wu, Ellen Kim, Minjae Kwon, Tajin Rogers, Mira Sridharan, Tai Kao-Sowa, Jiying Qi, Ming Ray Xu, and Tiger Zhang, and alternates Hasan Ahmad, Giancarlo Frix, Alvand Moini, and Katie Pruitt. The team is led by faculty sponsor Susan Boomer and by parent coaches Weiwen Gu, Fan Lan, and Elia Femia.