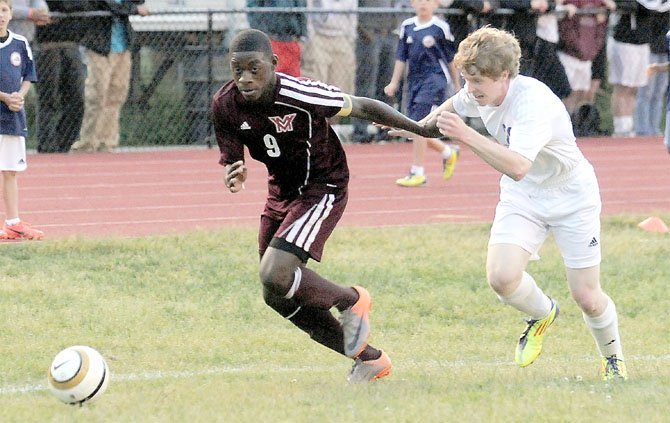 Fresh off a victory against defending National District champion Washington-Lee, the undefeated Mount Vernon boys' soccer team rolled into Chantilly to face the one-win Chargers on April 30. The Majors were ranked in the Washington Post's top 10, had outscored opponents 28-10 and, on paper, were favorites to cruise past their opponent from the Concorde District.
The game played out as expected for 70-plus minutes, with Mount Vernon leading 3-1 with eight minutes remaining. But Chantilly stormed back and won 4-3 in overtime, handing the Majors their first loss of the season.
"As much as one wishes to finish undefeated, the Chantilly [loss] needed to happen,"

— Mount Vernon boys' soccer coach Robert Garza in an email
While the defeat placed a blemish on a potential undefeated regular season, head coach Robert Garza said a loss was just what the Majors needed. Judging by Mount Vernon's 7-1 victory against Hayfield on May 3 and 3-1 triumph over West Potomac on May 7, Garza might be right.
"As much as one wishes to finish undefeated, the Chantilly game needed to happen," Garza wrote in an email. "We really needed a game to bring us back to balance — to bring our focus back to what we set out to do. When you're up 3-1 with eight minutes left and wind up losing 4-3 in double overtime — yeah, we needed a good ol' fashioned smack in the mouth."
Garza gave the Majors a day off after the loss, but players organized a practice to get back on track.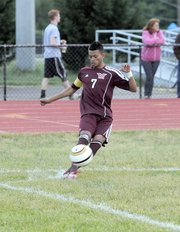 "The loss definitely woke us up," Garza wrote. "It allowed us not to take any team for granted, but most importantly, it showed the players they have to not only put in the hard work, but they have to work hard every minute of play."
Against rival West Potomac, Mount Vernon received goals from Amardo Oakley, Ishmael Castro and Erik Rodriguez. Against Hayfield, Foday Sillah, Reymi Rodriguez, A.J. Tracey, Davis Edjiman, Rahim Costa-Dorsey, Erik Rodriguez and Oakley each scored one goal.
With a win against Edison on Friday, May 11, Mount Vernon can secure the top seed in the district tournament, which would be a first for the program, according to Garza. The Majors are 9-1-2 overall, including 5-0-1 in the district, and are ranked No. 6 in the Post as of Tuesday night.
"We feel pretty good going into the postseason," Garza wrote. "Granted, there are still some issues we need to address — most notably finishing — but we really are coming together and moving the ball around quite well. If we manage to keep our shape and stay the course of our game plans, I think we will fare quite well."
The National District tournament will begin Monday, May 14.