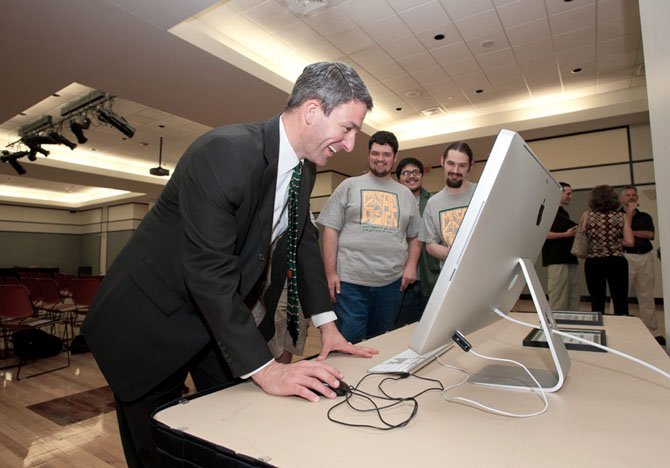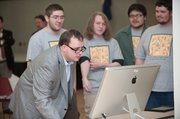 Law enforcement officials now have two unlikely weapons in the fight against gang activity in Virginia: video games and college students.
Students in the Computer Game Design program at George Mason University partnered with Virginia Attorney General Ken Cuccinelli's office to create video games designed to show children the consequences of joining a gang. The result of the collaboration is a series of interactive and educational computer games and mobile phone applications designed to reduce gang recruitment. The games were unveiled earlier this month on the George Mason campus in Fairfax.
"Gangs are constantly working to recruit new kids to replace those going to jail and getting killed. Their recruitment techniques are evolving, even to the point of using online gaming and other technologies. We have to work even harder to stop them," said Cuccinelli. "The goal of this partnership with GMU is a novel approach in the war against gangs to beat them at their own game."
Students enrolled in the university's GAME 232 Online Gaming and Filesharing course presented game proposals to Cuccinelli's office. The attorney general's staff selected three:
*"A Second Family," created by Michael Katz, Romel Ramos and Brandon Miller. The game tells the story of Justin, who is trying to fit in at a new school and becomes involved with some questionable people. He is forced to rely on his friends and mentors to overcome these negative influences.
*"Influenced," created by Austin Fain, Tiffany Nguyen, Con Son and Lamesha Coley. In this game, the player chooses various scenarios in which he or she can either help or betray members of the local community, and influence the impact gangs have on the community.
*"New Kid on the Block," created by Stephen Berrigan, Steven Fernandez, Devin Gibson, John Murphy and Daniel Paquette. In this game, the player has just moved to a new town and has to assimilate into a new school. He or she must make the right decisions and find a trustworthy group of friends.


THE GAMES ARE TARGETED at middle and high school students. "This is an attempt to reach kids using devices that they already have in their hands," said Arlington resident and George Mason adjunct professor Matt Randon. "The kids are already addicted to these devices so we have a better chance of reaching them with our message."
During the course, Randon, who also works as an English teacher in Manassas, taught students about the history, practice and design of online games and smartphone applications. Throughout the semester, the students developed written scripts and storyboards, art and sound design, programming, coding and musical compositions.
"I wanted the game to be fun for the player while teaching them about gang violence and how it can be harmful. Finding that balance wasn't easy, but … we were able to create a game that's educational, but also fun to play," said Daniel Paquette, who helped design one of the games.


THE GAMES will be available for mobile download free of charge by summer 2012. The games will also be available on the attorney general's website, as well as the websites for George Mason University, the Virginia Department of Criminal Justice Services, and Virginia Rules.
"Games have a pretty bad reputation in the media. What I hope this project shows people is that the greatest asset of games is that they make learning fun … which is a talent school systems around the world should look into," said Stephen Berrigan, lead writer and narrative designer for "New Kid on the Block."