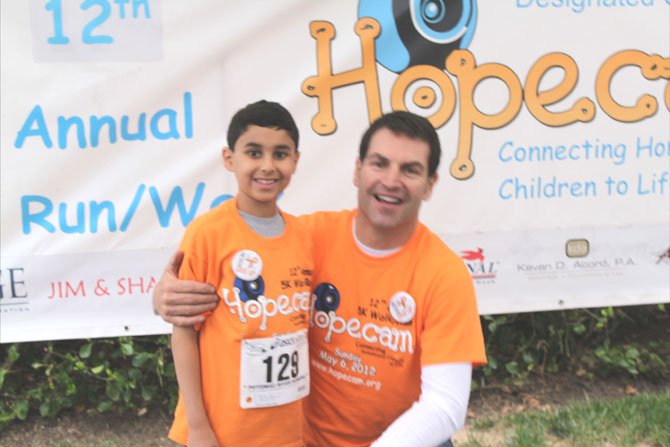 For the twelfth year in a row, Hopecam hosted their annual Hopecam 5K Run/Walk on Sunday, May 6, to benefit the charity's program. Since 2003 Hopecam, Inc., a 501c(3) nonprofit charitable organization, has helped more than 225 hospitalized or homebound children cope with loneliness and isolation as they battle cancer or other life-threatening illnesses. All services are provided completely free of charge to the families and school partners.
This year's honored guest was Stefano Rocca, 8, a 2nd grader at Westbriar Elementary School in Vienna. Stefano is battling leukemia. He was joined by his parents and brother.
Hopecam's 5k was supported, in part, by Mr. & Mrs. James Todd, McLean; Sunrise Valley Elementary School; Jorge Scientific Corporation; Milestone Communications; The Rappaport Companies; HELOCOmm; GCE; Alliance Affiliated Equities Corp; Entrex Communication Services; Cardinal Bank; Whole Foods; Time Out Wings & Grill.
Hopecam connects hospitalized and homebound children undergoing long term treatment with their teachers, classmates, family and friends by providing laptops, high speed internet and web cameras. All services are provided completely free of charge to the families. Hopecam can provide this service through its partnering with area hospitals (Children National Medical Center; Inova Fairfax; NIH; Johns Hopkins, etc.), social workers and dozens of school districts in Virginia, DC and Maryland.
Childhood Cancer Facts
*Each school day, 46 children are diagnosed with cancer.
*One in 330 children will develop cancer by age 20.
*Although the 5-year survival rate is steadily increasing, one quarter of children will die 5 years from the time of diagnosis.
*Cancer remains the number one disease killer of America 's children - more than Cystic Fibrosis, Muscular Dystrophy, Asthma and AIDS combined.
Research tells us that isolation and loneliness are disruptive and devastating for homebound and hospitalized children especially children battling a long term illness and treatment. They are separated from their friends at school and lose most social interaction. Hopecam bridges that gap by providing each child with a laptop, web camera and a corresponding setup in his or her classroom. The charity coordinates with school administrators to successfully connect each child with his or her school.
To learn more about Hopecam, visit the website at www.hopecam.org or contact Interim Executive Director, Jennifer Bond, at jbond@hopecam.org – 703-622-2555 ext. 110.