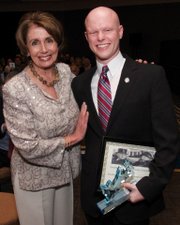 Ryan McElveen, Fairfax County School Board Member At-large, was presented with the 2012 Charles Robb Young Leaders Award by Rep. Nancy Pelosi, Minority Leader of the House of Representatives, and Rep. Jim Moran as part of the Fairfax County Democratic Committee's first annual Eleanor and Franklin Roosevelt Dinner on Sunday, May 6.
The Senator Charles S. Robb Young Leaders Award recognizes the efforts of a young leader to promote Democratic politics and candidates.
McElveen, who has been called a "rising star in the Democratic party" by former Fairfax County party chairman Rex Simmons, became the youngest school board member ever elected in Fairfax County in November 2011 at the age of 25. In a field of seven county-wide candidates, he received 87,150 votes, second only to veteran incumbent Ilryong Moon. As an at-large member, McElveen represents 1.1 million Fairfax County residents.
McElveen works as an international policy analyst for the Boeing Company and holds a Masters in International Affairs from Columbia University and a B.A. in Anthropology and East Asian Studies from the University of Virginia.