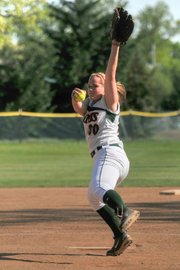 St. Stephen's & St. Agnes senior pitcher Alexis Sargent recently added an accomplishment to her already decorated softball career.
Sargent reached 1,000 career strikeouts on April 18 during a game against Holy Child — and did so in grand fashion. She struck out 18 batters and tossed a no-hitter against the Tigers, leading the Saints to a 4-1 victory.
"Hitting the 1,000 mark felt truly amazing," Sargent wrote in an email. "It was not so much the reaching of the mile mark that felt so good, but the incredible amount of support that the community showed. Coaches stopped practice to bring their teams to the game, teachers stayed late after school, and my friends and family came from all over. The love and support was overwhelming."
Sargent, who will play for the University of Pennsylvania next season, has thrown every pitch of every Saints game during her four-year varsity career. She realized last season she was on pace to reach 1,000 strikeouts. Head coach Stephanie Koroma kept track of Sargent's strikeouts this season and updated the pitcher on her progress.
"Being the intense competitor that I am, I keep a close eye on the strikeout leader board throughout the season," Sargent wrote. "Last year I realized that I averaged just over 250 strikeouts per season, putting me on track to meet the milestone this year. When I knew it had become a possibility, I made it a necessity. The opportunity motivated me even more to continually improve my game so that I could play at the top of my capabilities."
Sargent was a first-team All-Met selection by the Washington Post last season. She has led the Saints to the ISL AA tournament championship game each of the last three seasons, winning as a freshman and a junior. This year, she has expectations of winning another title and reaching the VISAA state championship game.
After back-to-back losses against National Cathedral and Bishop Ireton, St. Stephen's & St. Agnes beat Maret 8-0 on April 26. The Saints' next home game is at 4:15 p.m. on Tuesday, May 7 against Sidwell Friends.
"Coming into the program as a freshman, I definitely felt as though it was my job to carry as much weight as possible," Sargent wrote. "I took every loss extremely personally, feeling as though I had lost the battle that game. The tears and disappointment from every loss helped build character, and with the support from Coach Koroma, I slowly began to understand that there are days my performance may come a little bit short. But she also helped me realize that every loss was an opportunity to learn, and every year I have learned more and more. From freshman year, my biggest improvement on the mound is my mental game. The biggest change I've seen is my ability to overcome adversity while maintaining composure. I believe composure also helps keep my team calm and productive in stressful situations.
"… Also, without Allie Buch, my junior catcher, none of this would be possible. Alli really stepped up, and in a matter of a few months she has truly become a great catcher. She is a rock behind the plate, and is not afraid to give up her body to make the play. She has done more than I could ever ask for, and I truly appreciate her hard work and dedication."
—Jon Roetman