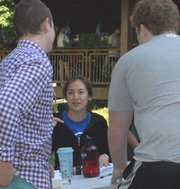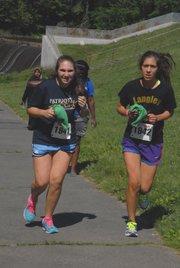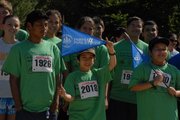 Nearly 150 runners and walkers came out Saturday to participate in the Youth Mental Wellness 5K Walk and Run at Lake Accotink in Springfield. Three entities, Fairfax Partnership for Youth, Befriend-A-Child Mentoring Program and the Josh Anderson Foundation, came together to host the walk. Vienna resident and director of the Josh Anderson Foundation, Lauren Anderson, was there early to help set up the event and to register participants. This event was personally important to her.

Three years ago this past March, Anderson's younger brother, Josh, took his own life. Josh was the youngest of four children. He played on South Lakes' football team. He was well-liked. He also struggled with depression. Josh committed suicide the day before a hearing with Fairfax County Public Schools that would most likely have resulted in his expulsion from Fairfax County school system. Twice Josh had been caught with marijuana. After the first episode, Josh was removed from Langley and placed at South Lakes; the second offense led to the hearing.


AT THE TIME of Josh's death, Lauren was a senior at University of Virginia. Josh's death was a shock. He appeared to be coping with the disruption caused by his punishment. Anderson believes that Josh had internalized much of his anxiety and shame, leading to a fatal conclusion.
Shortly after Josh's death, the family established the Josh Anderson Foundation in an effort to keep Josh's memory alive and to raise awareness about youth mental health needs. On the second anniversary of Josh's death, Anderson and other friends and family members ran in the National Half Marathon as a fundraiser. Anderson and her family felt they needed to do something local to help area teens possibly struggling with mental health issues. Last July, after two years working in investment banking, Anderson returned home to act as the director of the Josh Anderson Foundation and to work on increasing awareness of youth mental health needs in the Northern Virginia area.
"We feel there is such a need in this area with youth not having any outlets and struggling with metal and emotional issues," said Anderson.
This past year, Anderson began working with South Lakes, Langley, Thomas Jefferson and Mclean high schools to establish a mental wellness week. Prior to AP and IB exam periods, the Josh Anderson Foundation promoted "Stress Less, Laugh More," a week-long initiative to educate high school students on the difference between normal and debilitating stress. "Stress Less, Laugh More" featured various activities, ranging from speakers to yoga classes to play dough sessions, to remind students that they are not alone with their feelings and that help is available.
Anderson said that in developing the "Stress Less, Laugh More" week, they kept Josh in mind.
"We tried to think of things that might have helped Josh. If Josh was in the audience, what are things we could do that would have helped him. We hope to give kids empowerment so they don't feel awkward asking for help," said Anderson.
The Josh Anderson Foundation's involvement in Saturday's Youth Mental Health Wellness 5K Run/Walk came about organically, said Anderson. Upon her return to the D.C.-area last summer, Anderson began volunteering with Fairfax Partnership for Youth because of the organization's focus on mental wellness. Fairfax Partnership for Youth and Befriend-A-Child Mentoring Program have been hosting this run/walk for the past five years. This is the first year the Josh Anderson Foundation joined in hosting. The three organizations will split the proceeds of the event.


STUDENTS FROM LANGLEY HIGH School made up a good number of the participants Saturday. Many participated to earn community service credit, although all said they were also there because it was a good cause. Many of those participating in the event were juniors and seniors, a year or two younger than what Josh would have been.
Jen Durham, of Manassas, participated in Saturday's run because of its focus on youth mental wellness. She said she started running in December after her baby was born. Since then she has been looking around for good causes to participate in. The Youth Mental Wellness event fit the bill as it supports anti-bullying and youth mental wellness. Both issues are personally important to Durham. Ten years ago her nephew, then a student at Westfield High in Chantilly, committed suicide. It was a devastating loss, she said.
"Kids get overlooked when it comes to mental wellness. So many think they will just get over whatever is troubling them," said Durham.
Kelly Murphy, a teacher at a nearby middle school, and her husband Mark participated in Saturday's event to support a student who suffers from mental illness. "We thought it would be a good way to support him," said Murphy.
The event was also an occasion for foster care children and their mentors to come together for the day. Social worker Velma Lukic of Alexandria, was there with her 5-year-old daughter, Lily, to support one of her clients who was visiting with her mentor at the event.
Parishioners from His Church International Christian Center in Springfield were also on hand preparing a picnic lunch for all participants to enjoy after the run.