A local foundation was catapulted to national status on Friday.
Josh Anderson Foundation [JAF] Executive Director Lauren Anderson had a chance to talk to holistic health advocate Deepak Chopra for his show One World about JAF's mission.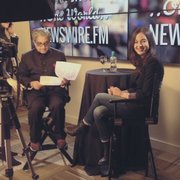 "I was actually approached by the producer of the One World show, who happened to hear of our work through my boyfriend who coaches her son in soccer - small world, I know!" she said in an email. "I was super excited for the opportunity to interview with Deepak Chopra - not only to get JAF's mission out on such an international platform, but also because Deepak believes in mind-body health and integration, something I believe in and am trying to bring into schools through yoga and mindfulness."
Lauren Anderson created the foundation after her brother, Josh, died of suicide in 2009. She said he was caught with marijuana at Langley High School and was sent to South Lakes High School in 2008.
He played lacrosse and football. He had a girlfriend. But he also had a secret he kept from everyone: his depression. He died I March 2009, the day before he was supposed to have an interdisciplinary hearing after being caught with marijuana on school grounds again.
"The statistics are pretty staggering," said Anderson. "Self harm is the third leading cause of death among young people."
Anderson said the foundation has spearheaded mental awareness campaigns and is working to bring mindfulness and yoga into schools. She said yoga was a "pillar" in her journey through depression after her brother died.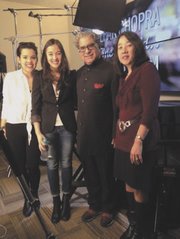 The mental health forum that was held recently will become an annual event, she said. The event allowed teens from local schools to hear their peers talk about their experiences with anxiety, depression, and in some cases, their suicide attempts.
The foundation will also continue to have Mental Health Awareness Week at local high schools and the "Stress Less, Laugh More" campaign.
The mission of the Josh Anderson Foundation is not just to end teen suicide. It's also to take away the stigma surrounding mental health and depression.
"It's really about taking care of yourself and taking care of those around you," she said. "It's like a physical illness."
The interview can be found at http://newswire.fm/one_world/video.php?guest_id=229. More information about the Josh Anderson Foundation can be found at www.joshafoundation.org.
"You may want to get involved to save someone in your family or someone you know, or just because you care about people that you don't know," said Chopra on the show. "I think the more we get involved, the more we increase our own well-being, the well-being of others and the well-being of society."