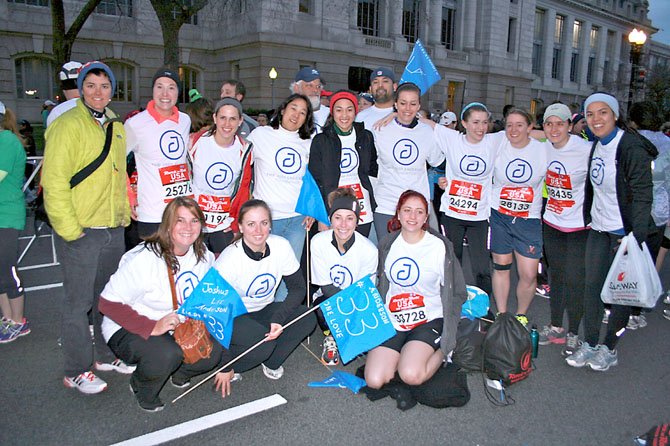 McLean — Before Fairfax County students finish the school year and head to summer break, they first must deal with exams, both final and for AP classes. This can lead to a lot of stress over the final two months of school, pressure the Josh Anderson Foundation is determined to relieve. 
The foundation is named after Josh Anderson, a South Lakes High School student that committed suicide in March 2009, the night before a school disciplinary hearing. 
"We all know too well that teenagers are often the last demographic to want to talk about their feelings," said Lauren Anderson, executive director and co-founder of the Josh Anderson Foundation, and Josh Anderson's sister. "We want high school students to know that they have options; that there is no need to suffer alone or in silence. Suicide prevention is attainable, but youth need to know that it is okay to talk about what they are going through, especially at school where they have their peers, teachers, coaches, counselors and mental health professionals."
According to the 2011 Fairfax County Youth Survey, 15.8 percent of students have "seriously considered" attempting suicide and 3.8 percent of students have attempted suicide. 
LAST YEAR the foundation raised $35,000 to fund the week of "Stress Less, Laugh More." Activities took place at South Lakes, Langley, McLean and Thomas Jefferson High Schools last year. This year, the foundation will host activities at those schools, as well as Cooper Middle School and Patch High School in Stuttgart, Germany right before the start of AP exams. 
"We're very pleased to be able to reach all the way to Germany. Their PTO president used to live in this area and heard about Stress Less, Laugh More," Anderson said. "These American schools overseas have students that have to face moving every few years, which adds additional stress to everything else." 
The foundation has partnered with Active Minds, a Washington, D.C.-based nonprofit that creates chapters at schools to help promote mental wellness. Thomas Jefferson, McLean and Langley already have Active Minds clubs, and one is in the process of being created at South Lakes. 
"One aspect about stress that isn't emphasized enough is that if you're overworking yourself, you're not going to learn or study as well," Anderson said. "Even just getting outside, taking a 10 minute walk will clear your mind and give you a new energy. These are the kind of techniques we want to teach students, hopefully at an early age." 
Anderson said the key part of their approach is to get students involved with the process. 
"The biggest factor is getting them involved, because not only do they come up with good ideas, but ideas relevant to their school community and their peer group," Anderson said. "That way, ideas aren't coming from adults, but their fellow students." 
Sue Stemetzki, a social worker at South Lakes High School, credited the school's leadership class with helping to come up with ideas to reach their peers.
"We know there are situations where students experiencing depression will turn to parents, teachers or other students," she said. 
Speaker Jordan Burnham, who spoke at South Lakes last year, will be appearing at several county schools in April, part of the Josh Anderson foundation's efforts. Burnham attempted suicide during senior year, jumping out of a nine-story window.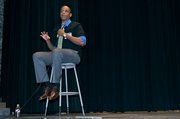 Now he travels around the country, speaking about his struggles with depression. He will speak at Lake Braddock Secondary School and Woodson High School students and parents from April 16 to 18. 
Greg Myers, psychologist at Thomas Jefferson High School for Science and Technology, called their partnership with the school "absolutely invaluable," and said that Stress Less, Laugh More is a highly popular and effective student outreach program.
"We are thrilled to have discovered such a powerful partner in JAF and very much look forward to collaborating on future efforts to promote mental wellness among our students," he said. 
Shari Bennett, mother of a freshman at George Mason University who graduated from Fairfax County school last year, said, "As parents, we can be as guilty as anyone when it comes to putting pressure on our kids when it comes to every aspect of school performance. When my son was just a freshman, I remember telling him that every grade could affect what college he got into, which effects the rest of his life," she said. "I'm glad the Josh Anderson Foundation is making it a point to blow off some steam, to have some fun. That's an important part of life as well." 
MEMBERS OF THE FOUNDATION and their supporters have also made an annual tradition by "Running to Remember Josh." The group comes together and runs the Rock 'n Roll Half Marathon every year since 2010. This year featured 27 runners. 
"The run coincides with the anniversary of his death every year, which is a sad day, but it's nice to have people come together and do something positive together," Anderson said. "We had people come from Georgia, Colorado and New York to run this year." 
The run is one of the major fundraisers for the Josh Anderson Foundation every year. More information about the foundation and its upcoming events can be found at www.joshafoundation.org.