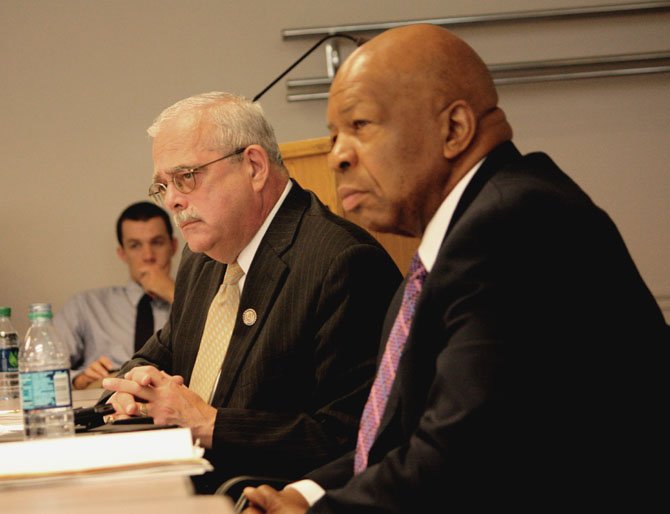 Senior representatives of national and local technology companies, including Google and Microsoft, and the new Chief Information Officer of the United States, participated in a congressional forum held by Virginia Congressman Gerry Connolly and Maryland Congressman Elijah Cummings at the Fairfax Government Center earlier this month.
The forum focused on the federal government and technology, both critical components of Northern Virginia's vibrant economy, and how technology can be used to increase government efficiency without increased spending.
Congressman Connolly, who is the Ranking Member of the House Oversight Subcommittee on Technology, Information Policy, and Procurement Reform, and Congressman Cummings, who is the Ranking Member on the House Oversight and Reform Committee, brought the congressional forum to Fairfax County because it is the hub of the information technology on the East Coast, rivaling California's Silicon Valley.
More than 75 representatives of local technology companies attended the forum where they heard from Federal CIO Steven VanRoekel, Microsoft's Susie Adams, Google's David Mihalchik, and Alan Chvotkin of the Professional Services Council, an organization that represents many federal contracting firms in Northern Virginia.


ALL OF THE PANELISTS agreed that the federal government continues to place greater emphasis on the use of all aspects of information technology, including moving to cloud computing, reducing the number of federal data centers, responding to increased cybersecurity threats and expanding mobile technology in support of telework. Yet federal spending on technology will likely remain flat, if not shrink, for the foreseeable future. That factor places a premium on federal partnering with private sector companies, which will allow the government to be more flexible in meeting its technology needs, VanRoekel told Connolly and Cummings.
Connolly reinforced the point and said that government not only has to do more with less, but also must do it better to improve services for the public. "We already are doing more with less, but to do it better we have to make thoughtful investments not only in technology but also people," Connolly said. "Furthermore, If we are going to attract technology talent from college campuses or the private sector to deliver this new generation of government services, we need to make sure public service is rewarded and not constantly under partisan attack."
VanRoekel said the federal government already is taking a page from the private sector and consolidating redundant technology contracts. For example, he said the Department of Agriculture has consolidated 21 email service contracts into one, which has reduced costs by one-third and saved $500 million. He said the Agriculture Department also has reformed its mobile phone contracts, which numbered in the thousands, into a handful of bulk purchase agreements, reducing costs by 18 percent. Similar efforts are underway at other agencies.
While those initiatives are reducing the overall number of government contracts, VanRoekel and the panelists said it is in the best interest of the government and taxpayers to have a robust private sector to drive innovation and competition.
Executives from Microsoft and Google said the move to "cloud" computing falls in that category. The private sector, and those two companies in particular, pioneered the cloud technology, but the federal government is just now expanding use of it.


THE TECH EXECUTIVES said smart use of the cloud will offer government agencies the opportunity to make more efficient use of limited dollars and allow technology staff to focus on improving overall agency mission and services rather than the day-to-day maintenance of complex networks and servers. Use of the cloud also will allow the federal government to better keep up with technological advances.
In the coming months, the federal government will be launching a new Digital Strategy. Connolly noted that telework, something he has consistently championed since his days as Chairman of the Fairfax County Board of Supervisors, must be a central focus of that effort. He said Telework was one important factor that can help reduce traffic congestion in Northern Virginia.
Commenting after the event, Jack Hargis, Director of Fairfax-based CGI, said, "It was great to see Congress and the Administration come together to discuss how our industry can work with the federal government to improve efficiency through technology. Congressmen Connolly and Cummings facilitated a collaborative dialogue between industry and government, and provided representatives of the area's tech community the chance to hear directly from Steven VanRoekel, the new U.S. Chief Information Officer."
"For companies like CGI, this kind of forum helps us to continually understand what our federal government clients need to accomplish their missions in an era of budget constraints. Likewise, I appreciate the Congressmen's willingness to listen to the challenges facing industry, including the need for initiatives that promote innovation—like cloud—while working toward increased government-industry collaboration," Hargis said.